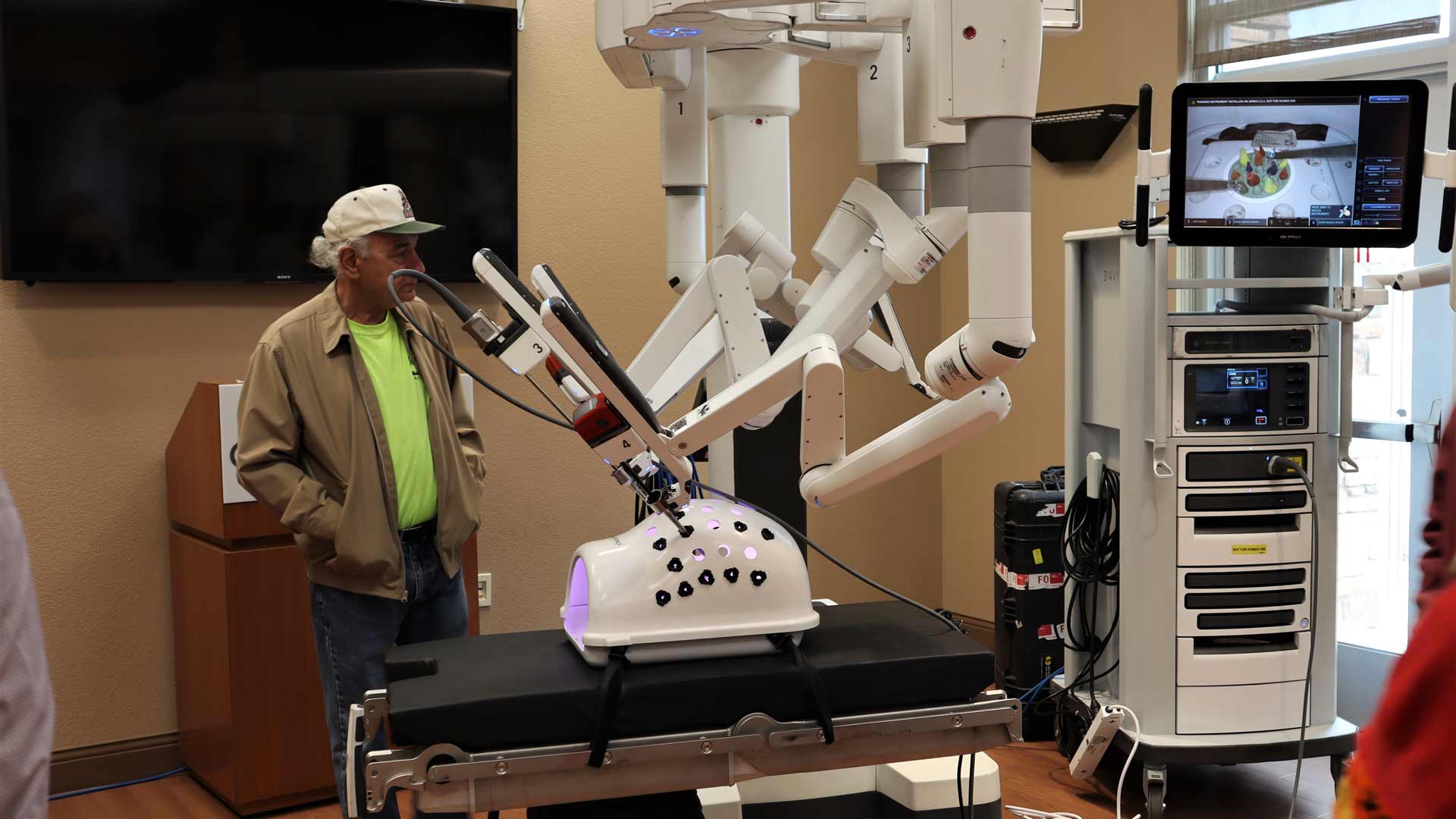 A Da Vinci Surgical Robot was purchased by Canyon Vista Medical Center to assist physicians during surgery.
Summer Hom, AZPM
Robotic-enhanced surgery is no longer on the horizon: it's now in Cochise County. Canyon Vista Medical Center has recently obtained a Da Vinci Surgical Robot to assist physicians during surgery.
Surgeon Dr. Michael Thompson said that the physicians will fully control the robot and see the patient through a 3D camera that has up to 10 times magnification on the robot produced by the company Intuitive.
"The robot is connected via cables to — we call it a console — so like a race car simulator in the arcade except it has a visor that we put our head into," said Thompson. "The instruments are — basically it holds my index finger and my thumb on each hand. And so, by spinning my fingers and thumbs, moving my wrists, I'm fully controlling the instruments that are attached to the robot."
He says the $2 million dollar robot will also help reduce tissue trauma and recovery time.
"Getting 3D and magnification helps us to make a smaller dissection inside the body," He said. "The Da Vinci instruments are able to do things that a regular, straight laparoscopic instrument just can't physically do. The end of it is wristed, so it acts just like a human wrist … So, the movement of the instrument is actually inside the body as opposed to outside of it. So, there's no torquing on that."
Dr. Thompson said that Canyon Vista is the first hospital in the county to have a Da Vinci robot. The first surgeries with the robot are scheduled for the first week of April.
He said that he hopes that the addition of the Da Vinci will help both with enhancing the quality of treatment and help with the recruitment of providers to the area.
"They know that if they can go up to Tucson to get a robot-Prostatectomy that has less instance of postoperative impotence that has less pain, they're leaving our community to go up to Tucson to get that surgery," said Thompson. "The more patients we help, the more surgeries we do. That's more nurses we can hire, that's keeping our facility new and clean."