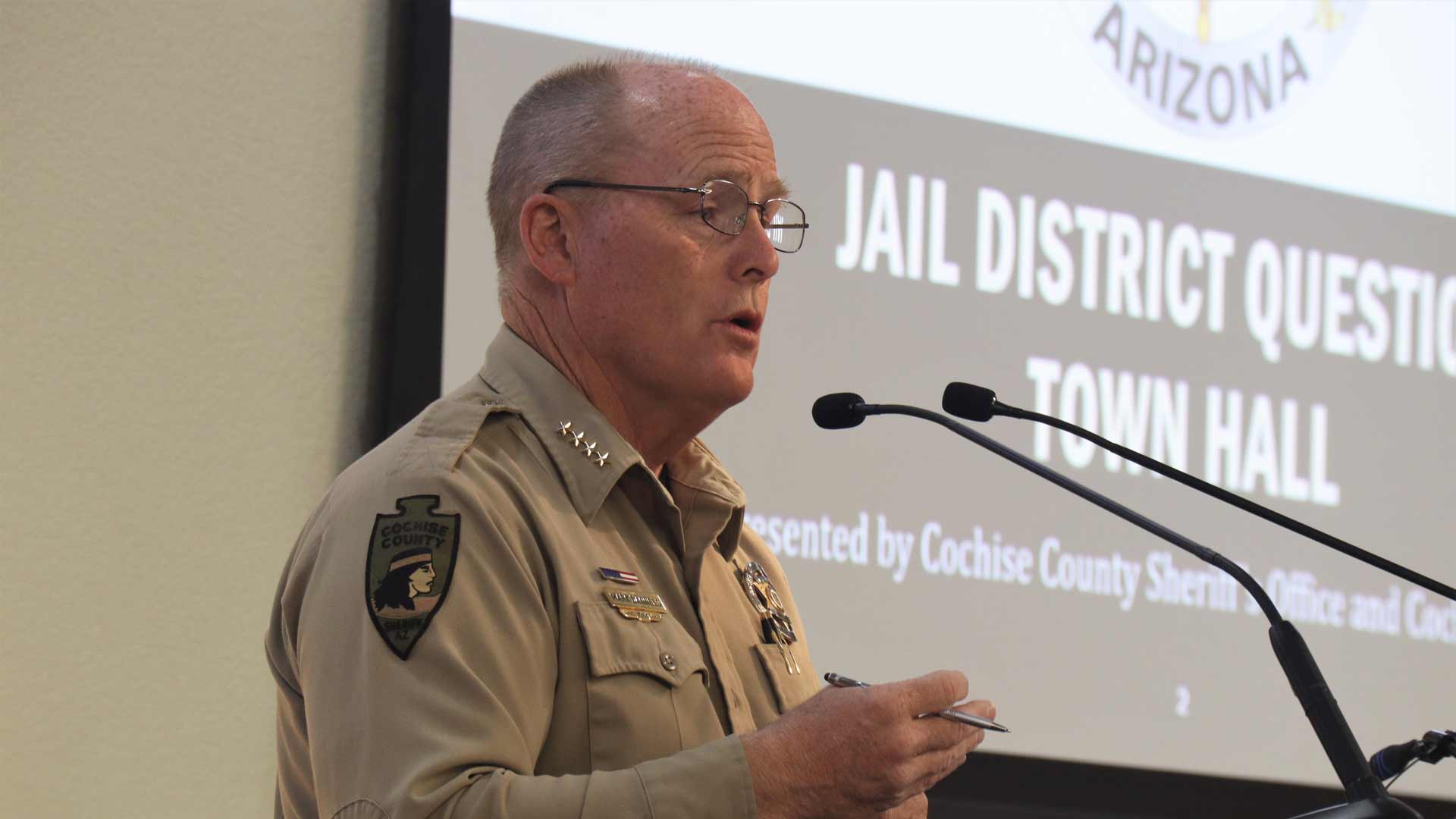 Cochise County Sheriff Mark Dannels discusses the need for a new county jail during the county's Sierra Vista town hall meeting about the special election on March 27.
Summer Hom, AZPM
As Cochise County prepares to send out ballots for its special election in May, which pending voter approval, will create a jail district and add a half-cent sales tax for 25 years to fund an estimated $100 million dollar facility, residents and elected officials in the county are speaking out about their opinions regarding the addition of a new tax levy to help fund the project.
The special election centers around the greater need of constructing a new county jail. The county's jail in Bisbee was built to last 20 years and hold 168 people. It is now double that age and has been modified to hold nearly double the number of inmates.
Jail Commander Kenneth Bradshaw said that the facility's design was never made up to date, even back in 1985 when the jail was built, and its infrastructure has created health and safety concerns for the staff and the incarcerated.
"Our infrastructure is just horrible," said Bradshaw during the county's town hall meeting in March in Sierra Vista. "Last summer, we had to run our entire facility off of — basically a big, long extension cord …In November and December at the height of when we were just getting started with the beginning of the new smuggling law, our population was 320, 325 and our highest was 336. So that means we have people on the floor …
"That means the guy who's due in 24 hours because he had one too many martinis at the VFW and got caught on his way home has to be in the same pod with the guy who stabbed a bunch of holes into somebody that was in downtown Sierra Vista," Bradshaw continued. "So, that's not safe for the inmates and it's not safe for the staff."
If approved by the voters on May 16, the estimated revenue from the temporary half-cent sales tax will be approximately $8.5 million dollars per year, for 25 years. Spread out over the county's population, it would cost $67.21 per resident, per-year.
Cochise County Administrator Richard Karwaczka said the reason why the county decided to propose a sales tax levy instead of a property tax levy is to reduce the overall cost for residents annually.
"In order to capture that same amount of revenue, that $8.5 million dollars a year, the calculation came out — we need to do a 31% increase in property tax," Karwaczka said.
That 31% increase in property tax would cost Cochise County residents $83 per year instead of $67.21 per year.
Cochise County Sheriff Mark Dannels said that the initial estimated total cost for the jail was $92 million dollars.
"That's a lot of money, and I respect that," said Sheriff Dannels. "So, I went to Gail Griffin last year, your state representative, and said 'Gail, I need your help …'
"We came home with $20 million dollars that we had until 2027 to use to offset the cost, to try to bring this down to $72 million," Dannels continued.
Karwaczka says the estimated cost of the facility is now closer to $100 million dollars.
A county spokesperson said the levy will completely cover the costs of construction, maintenance, and operation, and adding more staff to the jail.
If the sales tax is approved, it would generate approximately $212,500,000 dollars of revenue in total in its 25-year lifetime.
Residents in the county are generally in favor of constructing a new jail, but some differ on how the funds are being raised.
Sierra Vista resident Carol Welsh said she's in favor of building a new jail and using a sales tax to fund it.
"I support anything Sheriff Mark Dannels says," said Welsh, who attended the meeting in Sierra Vista in March. "We need a new jail. I am 100% convinced of that."
When asked about her thoughts on the proposed sales tax, Welsh says she's in favor of it.
"One thing I really like about that is that any money spent in Cochise County will contribute," Welsh said. "We have a lot of visitors here, we have snowbirds that come. And so, that way, any dollars spent in the county, whether they'd be from residents or not, will be contributing to it."
Sierra Vista resident Joe Kraps said he's also in favor of the construction of a new county jail and the addition of a sales tax to fund it.
"We have to do something," Kraps said. "And it's a very, very expensive process … Mark's got a problem down there, and we've got to solve the problem. Can we solve it another way — meaning is there another funding source? I wish the money would just fall out of the sky, and we wouldn't have to worry about it. I don't know a better way to do it."
Kraps said he doesn't like the idea of adding a property tax, because it limits your pool of revenue to only those who own property in the county.
"A sales tax is everybody, not only those who live here, but those who visit here, and I think it's the best overall way to accommodate the funding," he concluded.
However, not all are in favor of funding the jail through a sales tax. Willcox Mayor Mike Laws said that while he's in favor of constructing a new county jail, he's against raising taxes.
He said that Willcox's sales tax is currently at 9.1%, and if the half-cent sales tax is approved, it would be harder for businesses to compete with neighboring Safford and Thatcher in Graham County.
"'Cause you come out of — like New Mexico …And they're 5.75% tax," said Laws. "And he goes 'I can't come to Willcox and buy eggs. And I sure as hell wouldn't at 10%-something percent,' he said 'when I could drive just as close to Douglas and get it for less …'
"For better or worse, we're just taxed to death," Laws said.
According to the county, Douglas has the highest sales tax currently at 9.9%, followed by Bisbee, Benson, and Tombstone at 9.6%. Sierra Vista, the largest municipality in Cochise County, has a current levy of 8.05%, Huachuca City has a levy of 8.0% and unincorporated county land is levied at 6.10%.
Willcox City Manager Caleb Blaschke says that both Thatcher and Safford's tax levies are currently at 8.6%.
Laws said instead of adding a sales tax, he recommends that Sheriff Dannels lobby for more funds at the state legislature and seek a partnership with Fort Huachuca and U.S. Customs and Border Protection to seek out additional federal funding for the jail.
"They do listen," he said. "There are some good people, really, in government on both sides of the aisle, that understand. But you've got to know how to tell them."
Bisbee resident Fred Miller said that he's also in favor of the new jail, he's also against the proposed sales tax and he wants to know specifically where the new facility will be located.
"I do support a new jail, but I'll vote 'no' on this particular proposition on the ballot in May because there's two reasons," said Miller. "One is how they've funded it, and the second is that there's an absence of a commitment for the site location to be in Bisbee. And that's very, very important to me."
Cochise County Public Information Officer Jane Montgomery said in an email that both Sheriff Dannels and Commander Bradshaw have stated during the six town hall meetings that they plan to construct the jail in Bisbee.
"The county is not in any way concealing any existing plans for a new location," Montgomery wrote. "At the public meetings we have been holding this past 2 weeks, the Sheriff (Mark Dannels) and the Commander (Kenny Bradshaw) have made it clear during the Q&A sessions that they would favor constructing the new jail at the current location, or nearby, due to the proximity to the County court complex."
"The reason this cannot be given as a concrete plan at this time is that it would be wrong and misleading to say that this is definitely what will happen, because the detailed studies have not yet taken place and will not take place until after the election, if the vote is 'yes,'" she continued.
If the county residents vote 'yes' on the creation of the jail district, Montgomery said the first step is to retain a consulting firm that will conduct detailed feasibility studies for the construction of the new facility.
"These studies will likely cost around $1.5 million, which is why they will not be conducted before the election – if the public voted 'no', then that would be $1.5 million of taxpayer dollars wasted," said Montgomery.
The all-mail ballot special election is scheduled to occur on May 16. The last day to register to vote is April 17, and ballots will be mailed to Cochise County voters on April 19. The county recommends voters mail their ballots by May 10th.