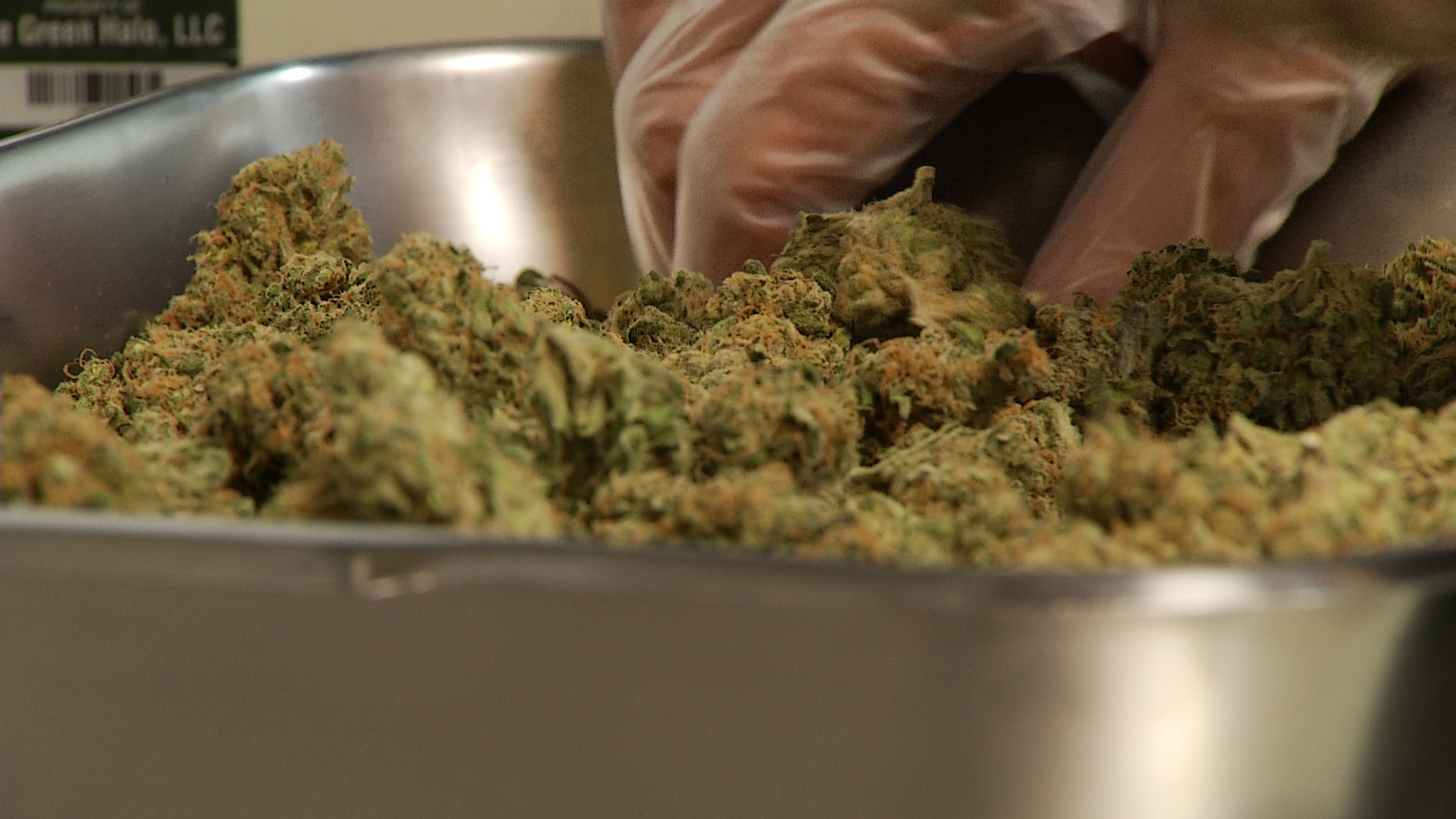 A dispensary employee weighing and portioning marijuana.
AZPM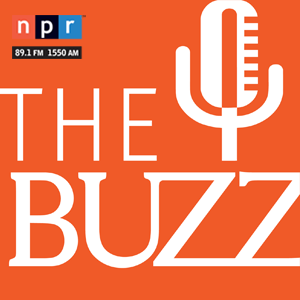 Arizona marijuana dispensaries began selling cannabis to people who are 21 years of age or older in January 2021.
In the two years that followed, monthly sales have topped $100 million, with the exception of the very first month.
As a result, the state has taken in more than $500 million in taxes
All this while marijuana remains illegal at the federal level.
So how does an industry exist, let alone thrive, while navigating a legal gray zone?
It had a decade of experience with medicinal sales to draw on, said Ann Torrez, Executive Director of the Arizona Dispensaries Association. She said she came around to the idea of recreational sales since taking on her current position.
"Originally, when I started in the industry, I was not a proponent of adult use. I thought it sort of might deplete from the medicinal value of the plant. However, there are a lot of people who could benefit from cannabis and either their doctor won't allow them to use it, they don't know how to get a medical card, or perhaps they don't have a qualifying condition."
Torrez said one of the biggest barriers that exist is consumers learning about how the industry works is one of the main challenges.
"We've had some pop-up shops around the state, brick-and-mortar shops, delivery shops, even recently we're seeing people with folding tables and little tablecloth out at street fairs and things. Those are illegal operations and those would be the most risky for consumers to go to. If they go into a licensed dispensary, they know for sure these are products that have been vetted by the Department of Health [Services]. They are appropriately dosed, so all of the things that allow for a more pleasant consumer experience."
A major barrier business-wise is the fact that marijuana is legal by state law but illegal federally. The industry is not dealing with raids by federal law enforcement, but they do face significant hurdles that many businesses would not deal with, such as banking.
"There are still business operations, even in Arizona, that don't have banking. And so they are 100% cash, which is problematic in so many ways. That cash movement is very very risky and problematic in the industry."
Many banks will not work with cannabis businesses and those that do often charge steep fees due to increased compliance work, according to Ryan Hermansky, owner of Noble Herb Dispensary in Flagstaff.
"No [U.S. Small Business Administration] loans, all the government money that went to small businesses owners through COVID, we did not qualify for any of that just because of the nature of our industry. On a side note, we just lost our payroll company. Paychex, one of the largest payroll companies in the world, is now backing out of our industry."
It's not the first time Hermansky has dealt with that either. Noble Herb is searching for its third payroll processor. He also said his company cannot claim many of the deductions that other businesses get on federal taxes.
Noble Herb is an anomaly in the business because it owns its building. Hermansky and his business partners were able to work out a deal with its seller that allowed them to buy and renovate the space to accommodate their needs.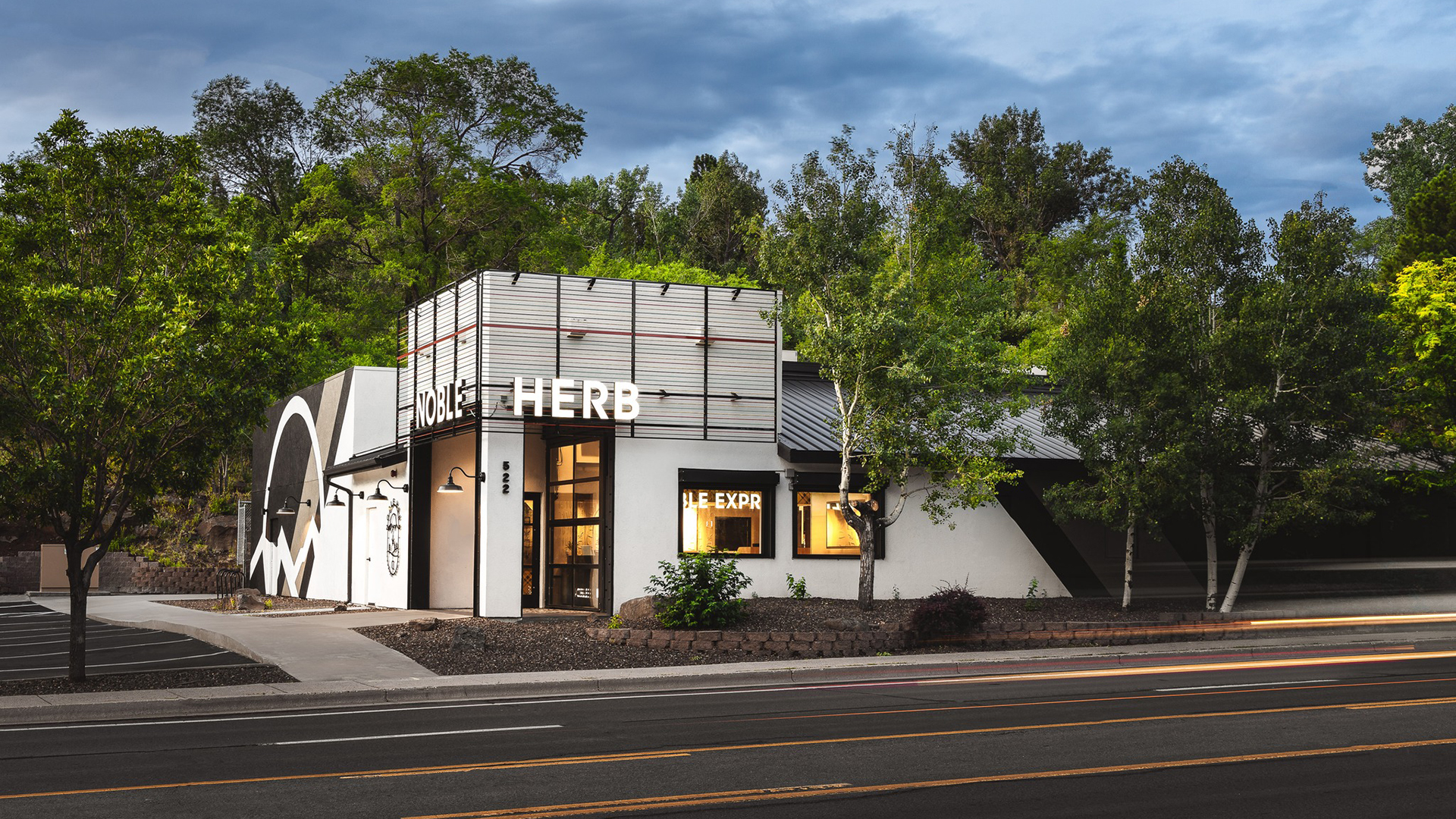 Noble Herb dispensary's location on Route 66 in Flagstaff.
Noble Herb on Facebook
A recent National Association of Realtors report found that commercial building purchases by marijuana businesses are down from previous years, even in states that were early-adopters in recreational legalization.
Marijuana businesses are also barred from taking their products across state lines, even if it is legal and they have operations in both states.
"It's not as if you can say, 'Okay, I exist in 10 states across the country 10 legal markets. I'm going to set up one massive grow in California and then just ship all that product out and disperse that like any other industry would do'," said Taylor Coomer, who came to Arizona after working in the marijuana testing industry in Colorado.
Hermanksy does see one advantage in the federal restrictions though, it has prevented large companies from entering the industry.
"The reason you're not seeing Phillip Morris venture into marijuana, in my opinion, is exactly that. They're a federally-regulated company already, they're on the stock market, and that prevents a lot of the big boys from coming in here."
In Arizona and many other states, marijuana and its associated products must go through testing for potency and possible contamination from pesticides, microbes, heavy metals, and other poisonous materials.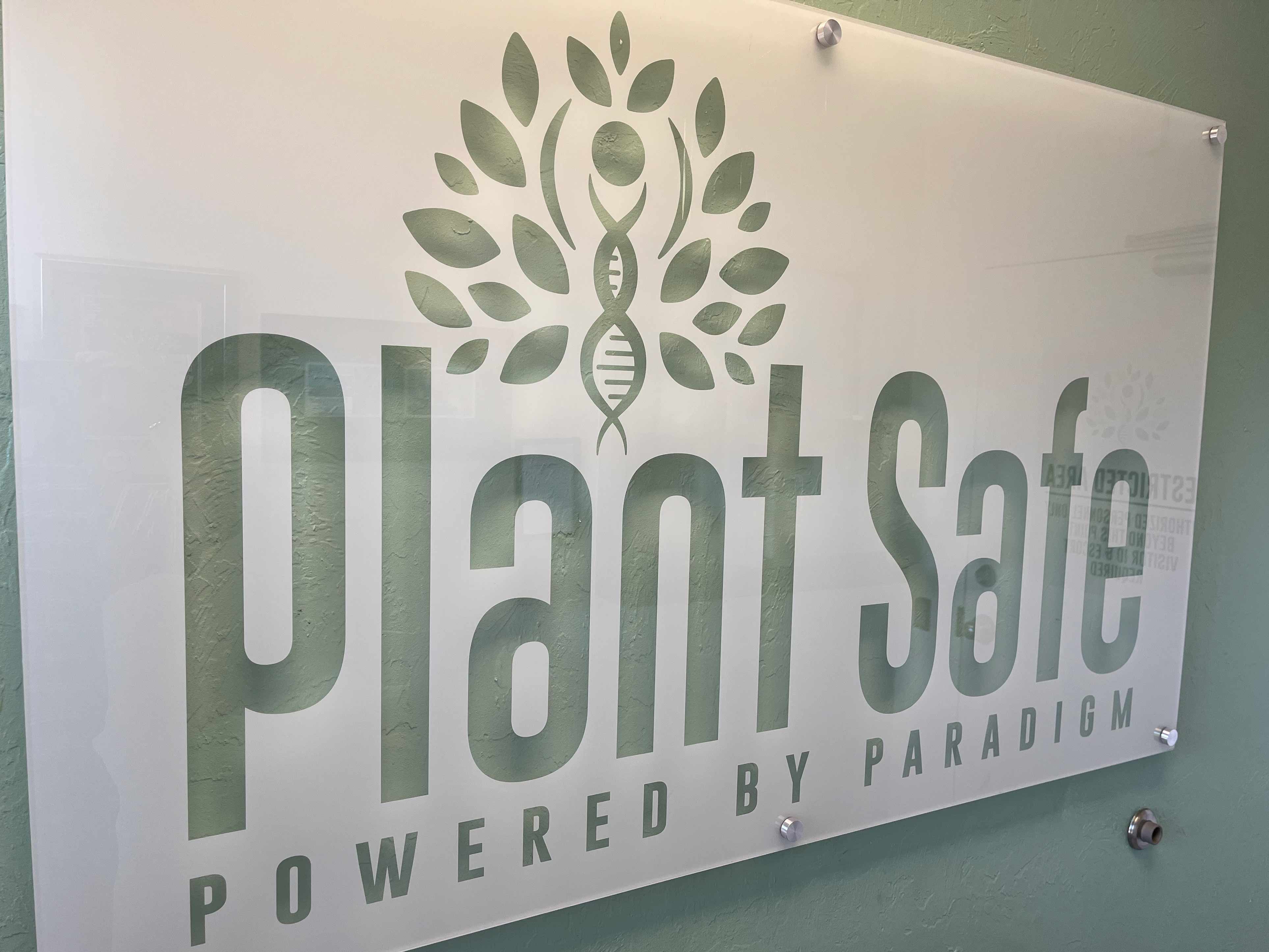 VIEW LARGER The sign at Plant Safe in Tucson. The company tests marijuana for potency and contaminants.

Christopher Conover, AZPM
One of the state's biggest testing facilities is Plant Safe, which operates out of a nondescript office complex in east Tucson.
Taylor Coomer is its Director of Operations.
"We've spent a lot of time doing internal [research and development] to make sure our methods are dialed in completely. It's actually quite tricky to do this analysis depending on the type of product."
A full-panel compliance test requires a sample of around 10 grams. Those samples are divided up and go through different tests ranging from UV light tests that determine potency to PCR testing for living microbes common in agriculture.
"If it comes back positive [for any contaminants], we are required to report that, and it's on whoever supplied us with the sample to make a determination at that point. There are really two avenues."
Remediation is one. An example, a grower could take a marijuana flower contaminated with a living organism like salmonella or E. coli and process it into an oil for use in non-smokable products. That process would kill any living organisms and remove the contamination.
There are some instances where remediation is not an option, leaving the cultivator no choice but to destroy the crop.
Testing rules regarding what contaminants are tested for vary from state to state, as is true with much of marijuana law.
Federal regulation would likely result in changes to that structure.
"I'm very happy with where things are right now," said Noble Herb's Hermansky. "Change isn't always good. I personally would be completely content just keeping things how they are. Federal legalization, depending on how it was done, could be amazing or it could be exceptionally detrimental."
He would prefer legalization happen on a state level in all 50 states.
Hermansky and Torrez said the single biggest change that could happen to benefit Arizona's marijuana industry is the loosening of federal banking laws around marijuana in states where recreational or medical sales are legal.