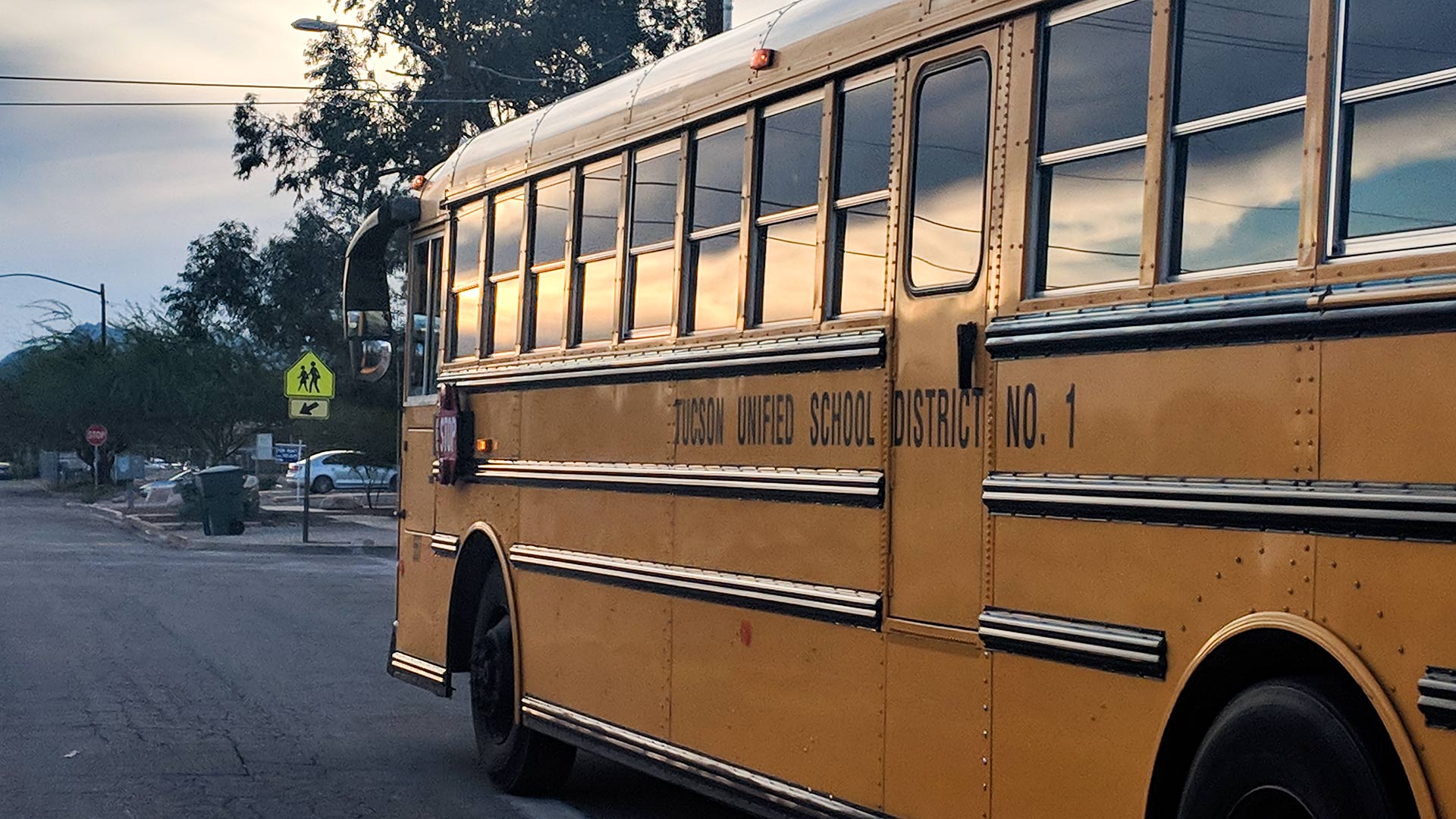 A Tucson Unified School District Bus.
AZPM
The Tucson Unified School District Governing Board looked to revise the district's Code of Conduct during a Tuesday night study session this week. Under the current code, which has not been updated since 2019, some educators as well as the district's union, the Tucson Education Association, believe their hands are tied when it comes to disciplinary action and consistency.
During the last meeting, outgoing TEA president Margaret Chaney urged the board to consider changes as there is a current need for staff to feel supported and respected by students.
"No matter what changes take place if we do not have the resources, or at least the majority agreement of all stakeholders, this and any other plan will not land on its feet," Chaney said. "Every situation is different. Every child is different. Every teacher and staff member is different…We all want, need and deserve respect and kindness no matter what, no matter who, no matter where."
Superintendent Gabriel Trujillo says this will be the first step for long needed change.
"We want you in two years to hear about a district that has reprioritized learning…where classroom environments are safe (and) orderly, where principals feel like they have the authority and the autonomy to maintain safe learning communities, and most importantly, where our teachers feel like they are supported and the learning is the primary focus of the classroom," Trujillo said.
The district is looking towards prioritizing a consistent structure across the board.
For example, under the current code administrators were able to select from a range of 1 to 10 days when issuing consequences for level three offenses, like threats or intimidation. In the proposed change, consequences are progressively given depending on the offense with the hope that it will lower the variability that is currently seen in suspension days for middle and high school students.
The office of student relations conducted multiple forums throughout the spring semester where families, students and staff stakeholders had the opportunity to engage with the proposed revisions. 9,642 stakeholders participated, including 1,834 students.
Among some of the concerns was how often Black and Latino students may receive discipline in comparison to their white peers. With the proposal of a progressive model, the district is hoping any disproportionality will be eliminated.
The changes will also include definitions for defiance and disrespect, including an increased level of consequence for when staff feel threatened or disrespected.
The board will take formal action next week. Parents and families have the opportunity to provide feedback on each schools' website. These proposed changes would go into effect for the upcoming school year.