The first panel at The Buzz Live event on July 10, 2023 with guests (from left) Sonia Gasho, Ash Dahlke and Mark Apel and host Christopher Conover (right).
Ahmaad Lomax, AZPM
This episode of The Buzz was recorded live at the Cochise College Campus in Douglas, Ariz. on Monday, July 10. At that point, the petition to recall the Douglas AMA vote had been handed in, but signatures had not been verified. AZPM contacted the head of the committee that gathered those signatures, but she declined our invitation to sit on one of the panels. The Arizona Department of Water Resources also declined an invitation to have a representative on a panel.
In November 2022, voters in two portions of Cochise County voted on enacting stiffer water regulations by declaring two portions of the county as Active Management Areas.
While the vote in the Willcox Basin failed, the vote in the Douglas Basin passed, meaning many in the area would soon see new regulations on how much water they can pump out of the ground.
"In the Douglas Basin from 1990 to 2021, we've seen an average decline [in groundwater levels] across the basin of 44.6 feet," said Ash Dahlke, who was the head of Arizona Water Defenders, the political action committee that organized the effort to put the two AMAs on the ballot. "We formed because we saw this spinning wheel of legislators not acting."
Arizona Water Defenders was not the only PAC organized around this campaign, another formed to oppose the AMAs.
"We also formed a PAC, Rural Water Assurance, that is now working on becoming a non-profit, to be an umbrella to correlate between all of the different parts and pieces and agencies that are working on water conservation," said Sonia Gash, whose L Lazy E Ranch sits in the Willcox Basin.
At its heart, the election was often about the proper tools for regulating and monitoring water use.
"Some regulation may be necessary in the future, but we believe that should be under local control," said Gash.
Those concerns were heaviest among ranchers and farms, who use 92 percent of the water Cochise County, according to Mark Apel, Environmental Projects Coordinator for Cochise County.
"The county is somewhat bifurcated between the east side where we have a high amount of agricultural production and the west side where we have other users," he said. "Until recently, we've been very focused on protecting the flows in the San Pedro River
Though the votes have passed, there are a number of issues that remain contentious around the vote.
Among them was the inclusion of Bisbee in the AMA. The city, known for having many left-of-center residents, receives much of its water from outside the Douglas Basin.
"The basin boundaries were created by [the Arizona Department of Water Resources], and they are geologic. That is where the water falls into the basin, so part of Bisbee falls into the basin and some falls outside of that," said Dahlke.
AZDWR did include a portion of Bisbee that is outside of the basin's geologic boundary in the AMA, according to Gash, but that is due to its use of certain land-measuring units.
While the exact rules of the AMA are still being hammered out, some farmers claim they are already feeling the impact of it.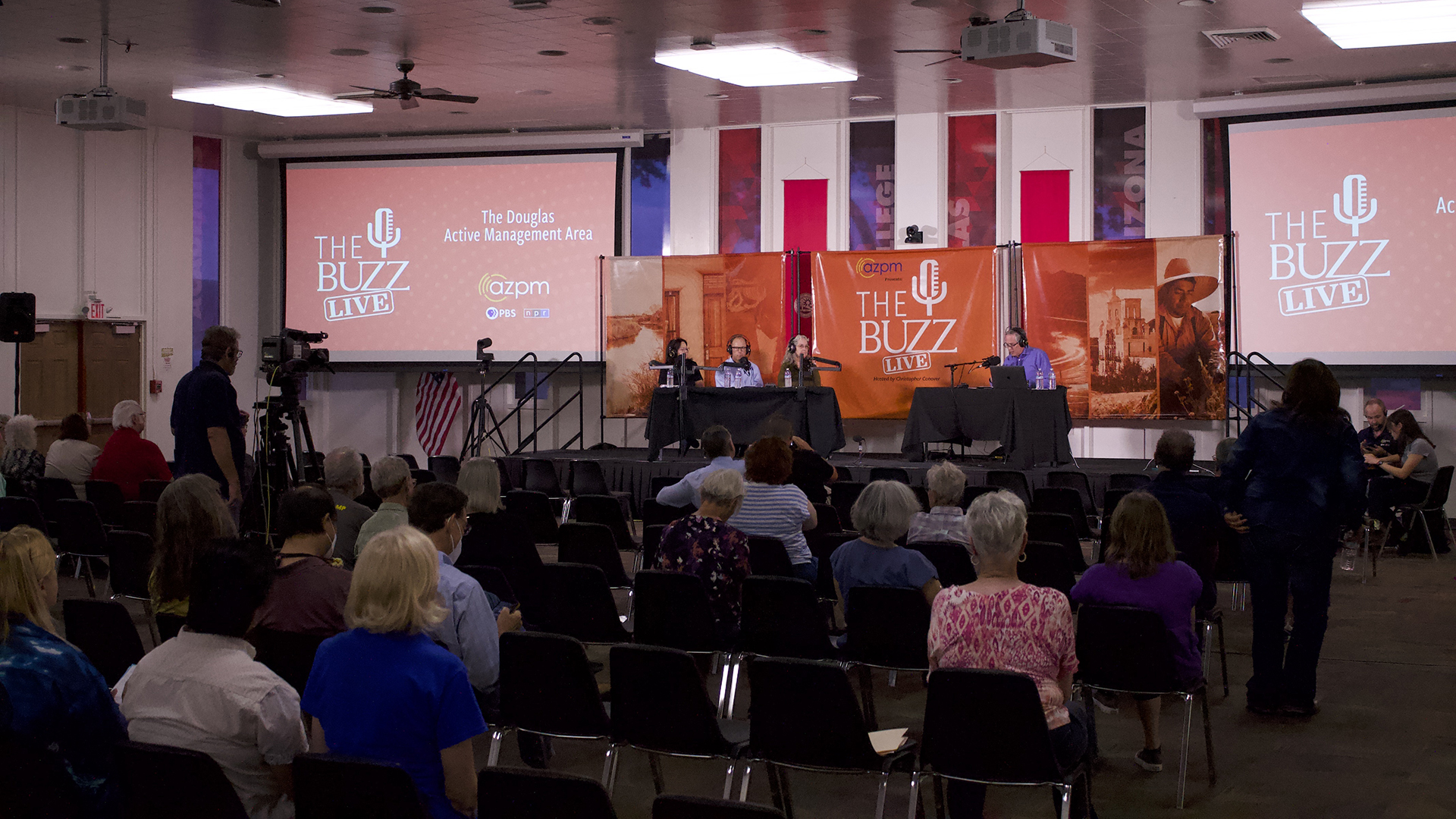 The second panel at The Buzz Live event on July 10, 2023 with guests (from left) Dr. Edie Gustason, Dan Coxworth, Jackie Watkins, and host Christopher Conover (right).
Ahmaad Lomax, AZPM
Dr. Edie Gustason co-owns High Lonesome Vineyards with her husband Tom. Grapes are among the most water-wise crops grown in Arizona, but the Gustasons say their operation is in danger thanks to the Arizona Department of Water Resources.
The issue dates back more than six years, when they wrote a letter seeking advice on a way that they could expand while remaining on wells that are classified as 'exempt' or for residential use, which pump fewer than 35 gallons a minute.
"We, by county standard, can divide our 36 acres into 4-acre increments," Edie Gustason said. "We could put an exempt well on each of those 4-acre lots if we wanted to, and we could irrigate 1.99 acres with each of those domestic wells."
They were seeking verification from ADWR that this was allowed, but say they received no reply.
They spent hundreds of thousands of dollars dividing the parcels and expanding their operation to another plot of land, drilling another well and planting more vines.
High Lonesome Vineyards was visited by ADWR inspectors after the AMA passed, and the Gustasons say they were told by those inspectors that they were within their rights.
"One week away from drilling our third exempt well, we got a notice in the mail. We need to cease and desist, rip out 1.3 acres of vines or face a $10,000 a day fine."
On the other end is Jackie Watkins, who co-own San Ysidro Farm with her husband Nathan. She said her operation, which grows a variety of crops that require more water than grapes and also raises livestock, has not changed yet.
"The groundwater level is depleting," said Jackie Watkins. "I'd like to think that my grandchildren and great-grandchildren will still be able to farm. In 20 years, we can't still be farming like we are today. We have to use less water."
Watkins said it is not as easy as switching crops, noting that their farm is not sustainable unless there is a demand for their product and that demand supports a working price.
Gustason said there is also concern that those who are setting regulations are out of touch.
"I think there's a lot of misunderstanding about what goes on down here from the folks up in Phoenix. Farmers and ranchers are some of the best stewards of water conservation, the local farmers and ranchers."
She said she understands what Arizona Water Defenders was trying to do, but does not agree with their methods.
Watkins said agriculture has good reason to use as little water as possible when irrigating.
"Ranchers and farmers, we don't want to use any more water than we need. It costs us. Our pumping cost per-pivot is $3,000-$5,000 a month. We are using more efficient water today in irrigation than when the [Irrigation Non-Expansion Area] started."
The INA was a set of water restrictions that were enacted in 1980, and those rules would stand again should the AMA be rescinded in an upcoming election.
While water use for agriculture remains a major concern for those in the Douglas Basin, another industry that has brought concerns elsewhere in the county is of lesser concern.
Homebuilding in the area remains in the realm of one-off homes, rather than the large subdivisions that are being planned or built in places like Sierra Vista and Benson, according to Dan Coxworth, Director of Development Services for Cochise County.
"We primarily see development on larger parcels of land, particularly in the Douglas area," he said. "I've been with the county in this position for 5-6 years, and we have not processed one subdivision plot."
Coxworth said he expects that as the growth corridor from Tucson's easternmost suburbs like Vail continue, that expansion will move eastward along Interstate 10 and reach Benson.
He said that one possibility that could bring expanded housing needs in the Douglas AMA area would be a planned expansion of the Douglas Port of Entry.