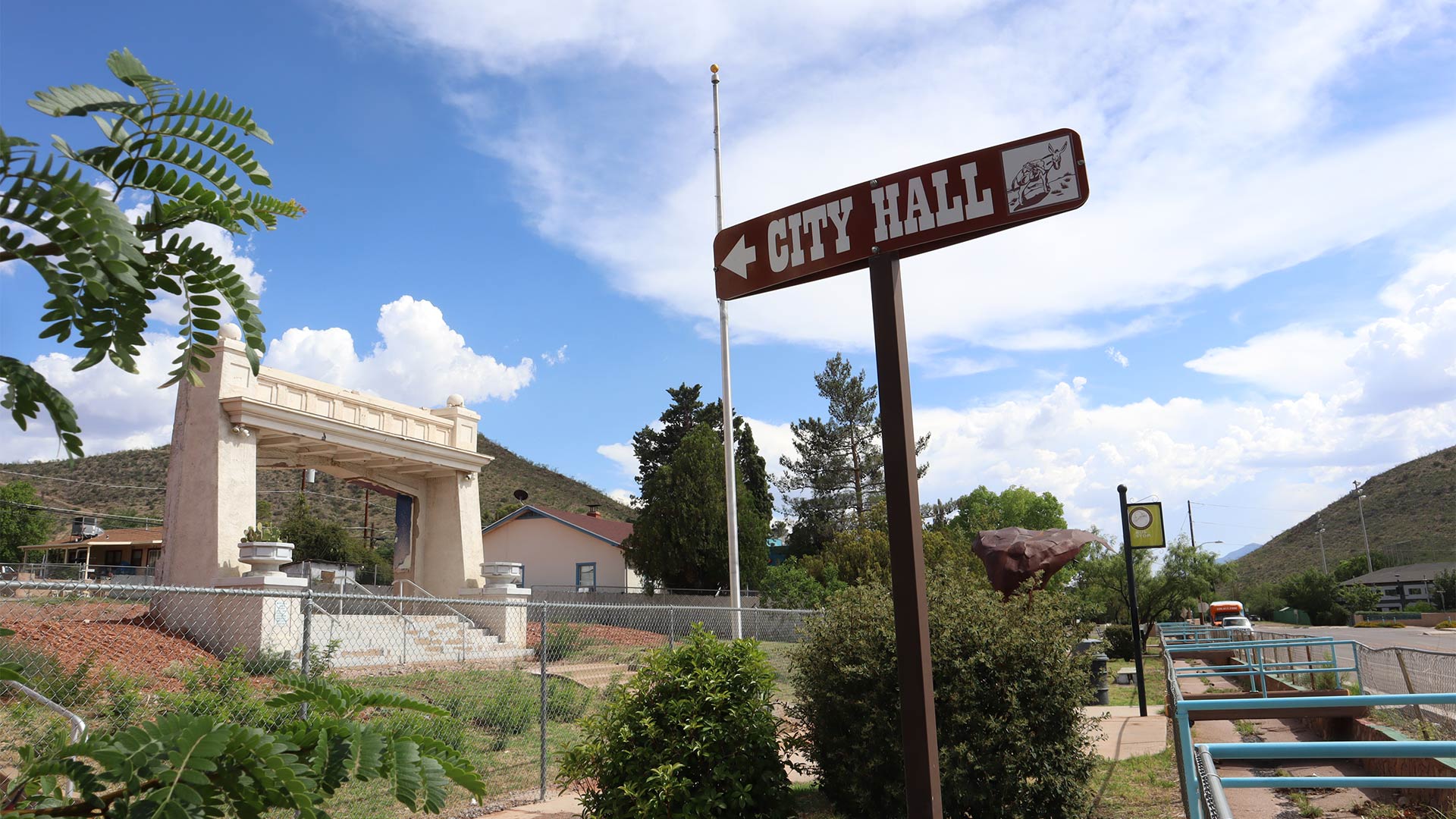 The remains of the old Bisbee City Hall, which is located on the corner of Arizona Street and Tener Avenue in Warren. July 17, 2023.
Photo by Summer Hom, AZPM News
The City of Bisbee is seeking to close a bid with a construction company to break ground on rebuilding city hall, which burned down in 2017.
Bisbee Mayor Ken Budge said that the city received a little more than $2 million dollars in insurance funds for damage. The only part of the building that remains from the flames is the entrance archway and steps.
Out of the $3.97 million dollars the city has budgeted for capital improvements for fiscal year 2024, the majority of those funds will be dedicated towards city hall's reconstruction, according to Bisbee City Manager Steve Pauken.
He said that after the city had hired an architect to draft up plans, they budgeted $3.2 million dollars for the reconstruction and went out to bid to find a contractor for construction a year-ago.
"Inflation was killing us," said Pauken. "So, we ended up with the lowest appearing bidder bidding almost a million dollars more than our budget."
He said now, the city is looking to seek bids again.
"We don't harbor any hopes that our budget of $3.2 million dollars is going to hold," Pauken said. "But in the meantime, we've been able to accumulate some more money. We're hoping to keep it in the $3.5 million dollar range. In the meantime, we've done all of the rest of the demolition work and the earthwork has been completed. We're able to do that independently. So, that part is done. So, it's basically shovel ready at this point."
Pauken said if the city is able to get a contractor breaking ground in the next three-to-four months, the target timeline is about one year for completion.
Another factor towards the delays, Pauken said, can be attributed to supply chain issues with materials.
"Because inflation has subsided to some degree, some of the material cost rises that we've been watching have actually gone down, or actually gone down what they were before," said Pauken. "The biggest problem materially here a year-ago was lumber. Still a problem material, but it's much less of a problem than it was a year-ago."
Pauken, who's been the Bisbee City Manager once before returned to the position in 2021, said he's retiring in January of 2024.
"It's like planting a tree: You don't expect to sit in the shade, but somebody will," Pauken said.
According to the final fiscal year 2024 budget, a $250,000 grant has been reserved for building a solar power system for the new city hall.