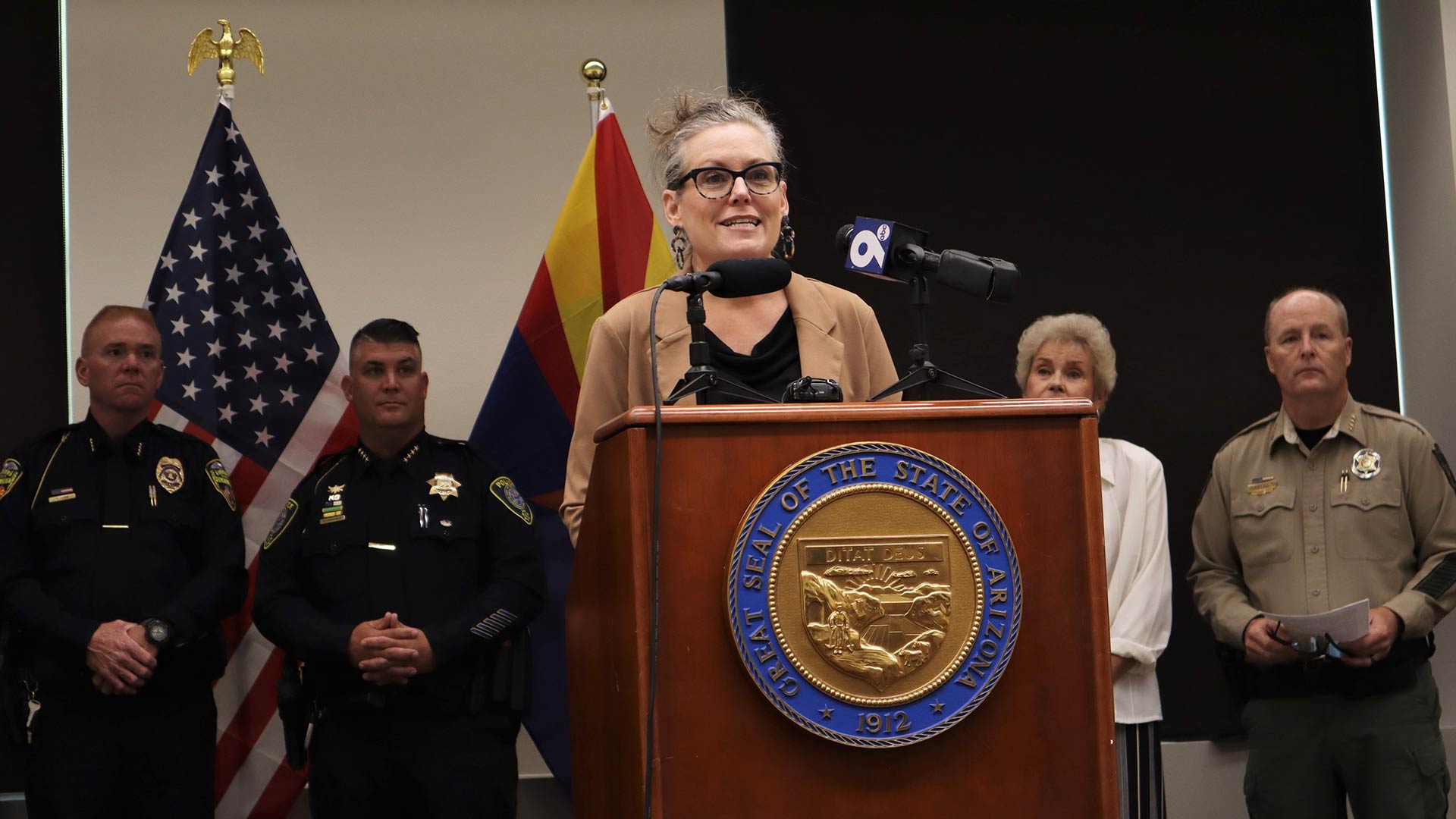 Arizona Governor Katie Hobbs announced that Cochise County will be receiving $41 million dollars from the state to enhance border security during a press conference at Cochise College's Sierra Vista campus Wednesday. July 19, 2023.
Summer Hom, AZPM News
During a visit to Sierra Vista on Wednesday, Arizona Governor Katie Hobbs announced that Cochise County will be receiving more than $41 million from Arizona's Border Security Fund. The funds will go towards local law enforcement agencies in Cochise County to enhance border security and purchase new equipment.
"Our rural communities have been strained and are frequently expected to perform tasks without being provided the necessary tools," said Hobbs during a press conference at Cochise College's Sierra Vista Campus. "That's why these funds will be used to support … The Southern Arizona Border Region Enforcement Team, which has been instrumental in the collective efforts to stop drug trafficking and other criminal activities that are tied to the border."
The Cochise County Sheriff's Office will get more than $35 million and Police Departments around Cochise County will be receiving around $4 million. The Sierra Vista Police Department will receive $108,000, the Bisbee Police Department will receive $1,374,494, and the Huachuca City Police Department will receive $148,693. The Tombstone Marshal's Department will get $795,010 and Willcox's Department of Public Safety will get $1,367,509. The cities of Benson and Douglas will get $1,525,958 and $194,178 respectively.
When asked if the funds are one-time investments in the county, Hobbs said that depends on the border security fund.
"Obviously, we have to work with the legislature and with, potentially, reduced funding in the next budget cycle," Hobbs said. "But we're going to do what we can to make sure we're continuing to do what we can to keep Arizonans safe."
Cochise County Sheriff Mark Dannels said funds will also go towards the new Southeast Arizona Combined Intelligence and Border Operations Center, towards incarceration, personnel, and equipment costs.
"Which will be the first of its kind border operations center, regional for both human trafficking, human smuggling and any kind of crime associated to the border, that's going to be networked throughout Arizona and beyond to other states," Dannels said. "So, we can begin to identify those cartel members working within the United States and keep continuing to address criminal cartels south across the border."
A spokesperson for CCSO said that the department was given $5 million to purchase the building from the Governor's Office during the Ducey administration. Out of the approximate 80 employees that the facility will hold, deputies with the sheriff's office, agents from the Border Patrol, and Homeland Security Investigations (HSI) will also occupy the building.
The spokesperson said the Sierra Vista Police Department and the Arizona Department of Public Safety will not have any personnel stationed at the new operations center.
Dannels said state border-related incarcerations have cost the county $1.3 million over the past five months.
"Over the past 18 months, in Cochise County, the cost is $5.6 million dollars total," Dannels said. He said that Arizona leads the nation in fentanyl seizures. According to data published by U.S. Customs and Border Protection, a total of 21,845 lbs of fentanyl was seized along the southwest border in fiscal year 2023 to date. The Tucson Sector of CBP, which includes Cochise County, has seized 623 lbs of fentanyl this year.
Hobbs also talked about education during her visit.
"Last time I visited here, I heard from staff at Cochise Community College about having to deal with migrants crossing through campus, but not having the capacity to do so properly," said Hobbs.
Hobbs said Cochise County will get $8 million dollars for broadband internet expansion, which is a portion of the nearly $1 billion that the Governor's office has received from the U.S. Department of Commerce's Broadband, Equity, Access, and Deployment Program (BEAD).
Cochise College President Dr. J.D. Rottweiler said that broadband internet access has become an essential utility for college staff and students. The Douglas campus, which opened in 1964 and encompasses 550 acres, has no broadband internet access according to Rottweiler.
"We've operated a rural community college, state of the art community college utilizing T1 lines, and also, microwave systems," said Rottweiler. "This fiber initiative will allow us to have high-speed internet to our campus, which will be instrumental as we welcome the new Port of Entry and all the economic growth and all of the new opportunities for new education that this will provide."