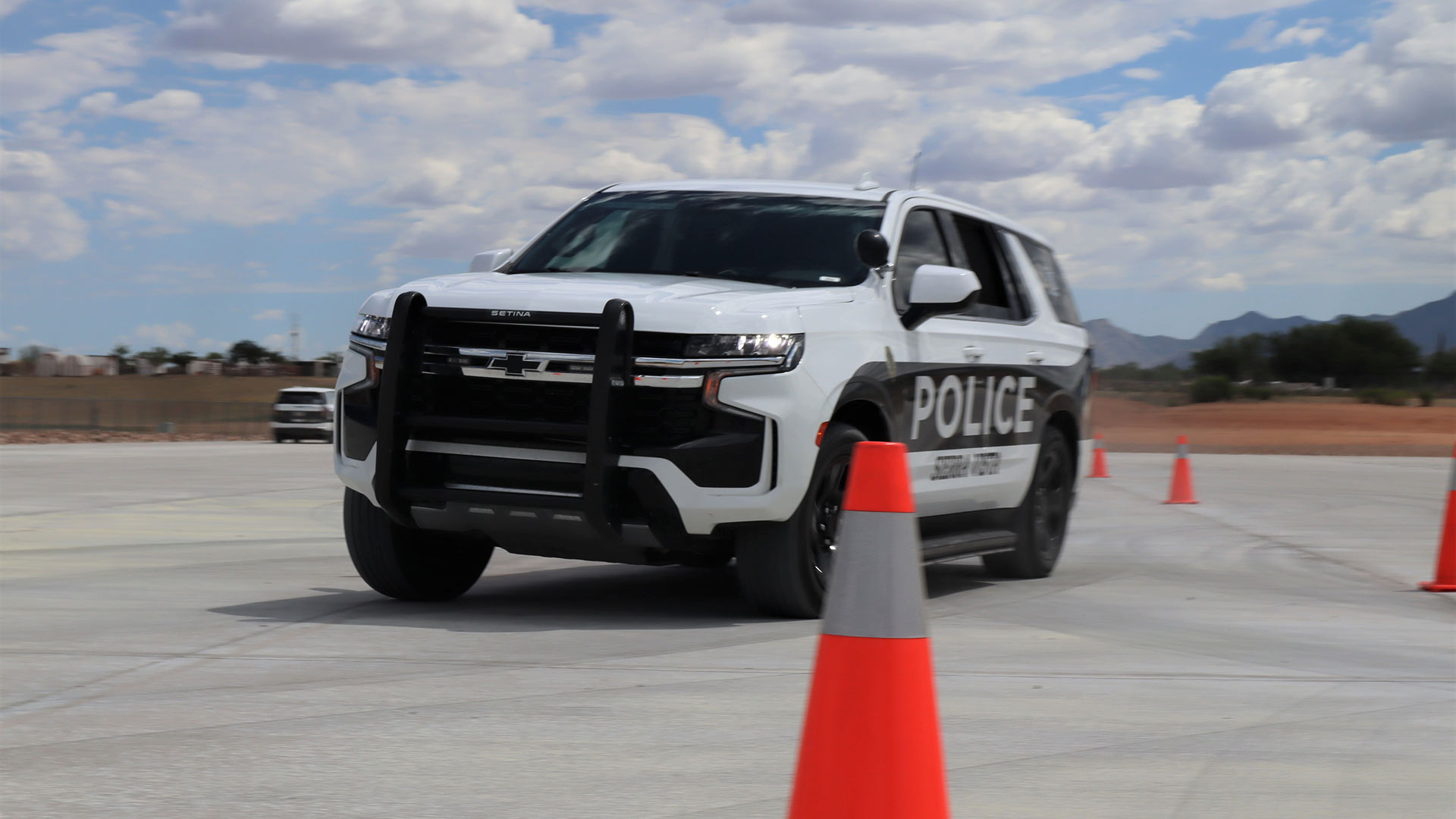 Sierra Vista Police Department officers test-run the new driving track for Cochise College's First Responders Academy Monday ahead of the ribbon-cutting ceremony. July 31, 2023. Photo by Summer Hom, AZPM News.
Summer Hom, AZPM
Cochise College debuted its training driving track Monday, marking the completion of the newest infrastructure addition to its Southeast Arizona Law Enforcement Training Academy. The roughly five-acre concrete track cost the college $4.85 million dollars.
The track will provide cadets with a safe place to practice evasive driving agility and demonstrate control of high-speed maneuvers. It's located behind Sierra Vista Fire and Medical Services Station 3 off of Giulio Cesare Ave.
"We take the outsides of corners to make sure when we're coming through the corner, we have more visibility all the way through, as opposed to, like, race car drivers — they're going to want to take the inside and cut around those corners," said Nathan Drake, a Detective with the Sierra Vista Police Department and Instructor at the Southeast Arizona Law Enforcement Training Academy. "This lane signifies a roadway. All of a sudden, you have to make a turn, you're going to go to the outside of the turn because it's called a late apex and go to the inside of that turn. And then, you're going to slow them back between the cones."
The second and third phases of the Southeast Arizona Law Enforcement Training Academy include the construction of an indoor shooting range and dorms for cadets. Both are expected to be completed by 2025. Cochise College President Dr. J.D. Rottweiler said Monday that the college will break ground on these projects in late September of this year.
The indoor shooting range will be constructed in the space that is currently designated as parking lot B of the Sierra Vista Campus, which will be just across Loop Road from the north entrance onto the campus. The dorms will be constructed on the North-East side of campus, just south of the University of Arizona's College of Applied Science and Technology.
Funding for the track, as well as the other phases of the academy's expansion, have come from multiple sources. Public funds the college has received come from the state's Rural Aid Allocation and Prop. 207. Cochise College's Vice President for Administration Dr. Wendy Davis said in January that a private donation has also contributed to the financing of the dorms.
The Southeast Arizona Law Enforcement Training Academy launched in 2019 as a partnership between Cochise County Sheriff's Office and Sierra Vista Police Department according to Cochise College President Dr. J.D. Rottweiler.
"Since that time, over a hundred law enforcement professionals have been trained and are working in our community," Rottweiler said Monday evening. "Collectively, we are on the cutting edge in training the next generation of first responders."