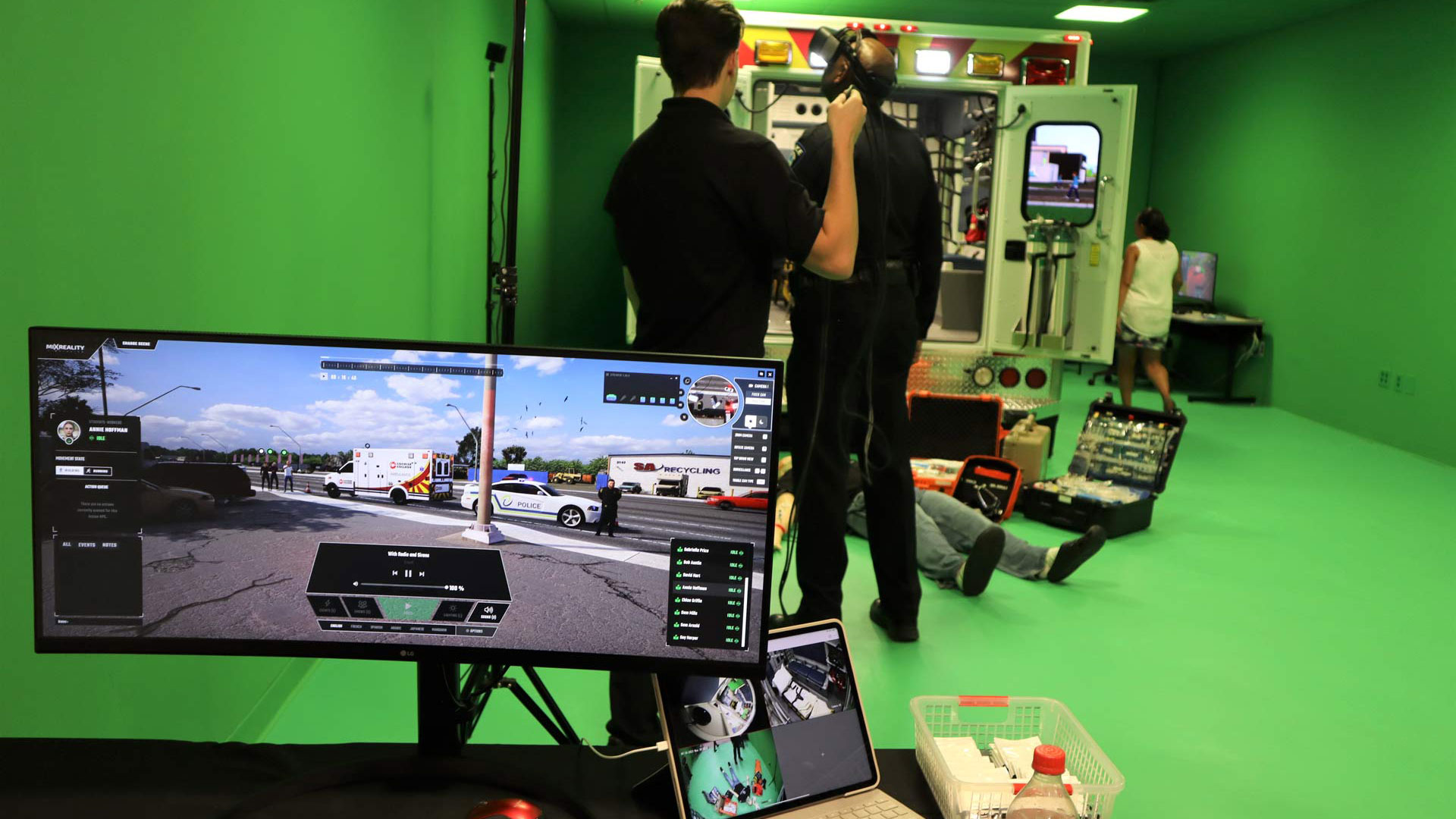 College College unveiled its new ambulance and mixed reality simulators by Simleader. The simulators are designed to train first responders to provide medical treatment both inside and outside the ambulance. July 31, 2023.
Summer Hom, AZPM News
Mixed reality — including components of Virtual Reality — is jumping from video games into simulators to train first responders. Cochise College President Dr. J.D. Rottweiler said the college is the first in the world to integrate the Simleader ambulance simulator with other mixed reality systems. The college partnered with Simleader Director General Robert-François Demers. The company is based in Quebec, Canada.
"He (Demers) has many ambulances around the world, and he has many mixed reality around the world," said Rottweiler Monday evening. "But we are the first to integrate fully, in that large green room, the mixed reality, and also then, the ambulance."
The mixed-reality simulator contains an ambulance, which has multiple TV monitors in place of windows that showcase the simulated scenario as the simulator rocks and sways like an actual ambulance would. Students are able to experience not only a realistic scene of an ambulance in motion but also the act of providing medical treatment to the patient using a VR headset.

It's a pre-programmed simulated scenario that relates directly to a dummy patient. An instructor controls the dummy's breathing and bodily functions like sweating and vomiting. It can even scream in pain to make the training even more realistic. Students can also simulate driving the ambulance using a separate computer monitor and steering wheel.
Demers said that training students on simulators can help them learn more quickly how to save lives.
"During Memorial Day, a soldier was sitting for the monument," said Demers, who referred to the 2014 shootings at Parliament Hill and the National War Memorial in Ottawa, Canada. "And a guy just arrived and shot the soldier. And the guy just jumped in a car and went to the parliament, and a big shooting happened after that ... They learned that it was only communication. Everybody have a different communication. So, they bought simulation from us, and they asked us to do a simulation that is just all communication — to do right communication. Only that, after that, they have no more issue with their communication, because now all the officers know they have to adjust their frequency in Ottawa when they come to that area. So simulator save life."

"You know, 20 minutes of training in simulation equal an hour on the road." Demers continued. He said his simulators are valued at up to half a million dollars depending on the number and types of equipment included.
Rottweiler said by March of next year, the college will add four more simulators at Cochise College's Downtown Center in Sierra Vista, which houses the college's nursing, fire science, paramedic, and EMT programs. He said one of those simulators will be designed to help train flight nurses and medics and another will train law enforcement how to handle high-speed pursuits.
"We know that's an issue we have at the border," Rottweiler said. "We're going to use technology to best replicate that so they can practice before it becomes a reality ... As you know, the sheriff has a helicopter coming in. We'll integrate that technology so you'll have three police cruisers, you'll have a helicopter in the sky, and they'll be mapping out all of Cochise County roads as they prepare and simulate what are some of the most dangerous situations we have in our county."
Rottweiler said that the funds the college receives from Prop. 207 financed the simulator.
"Prop. 207 was an initiative that was passed by the citizens of Cochise County, which takes the Safe Act — which is the recreational marijuana — a percentage of that comes to community colleges," said Rottweiler. "Our governing board chose to take those dollars and put it directly into all things first responders. We know as recreational marijuana becomes a reality, the people that probably are going to be impacted first will be mainly are our first responders."