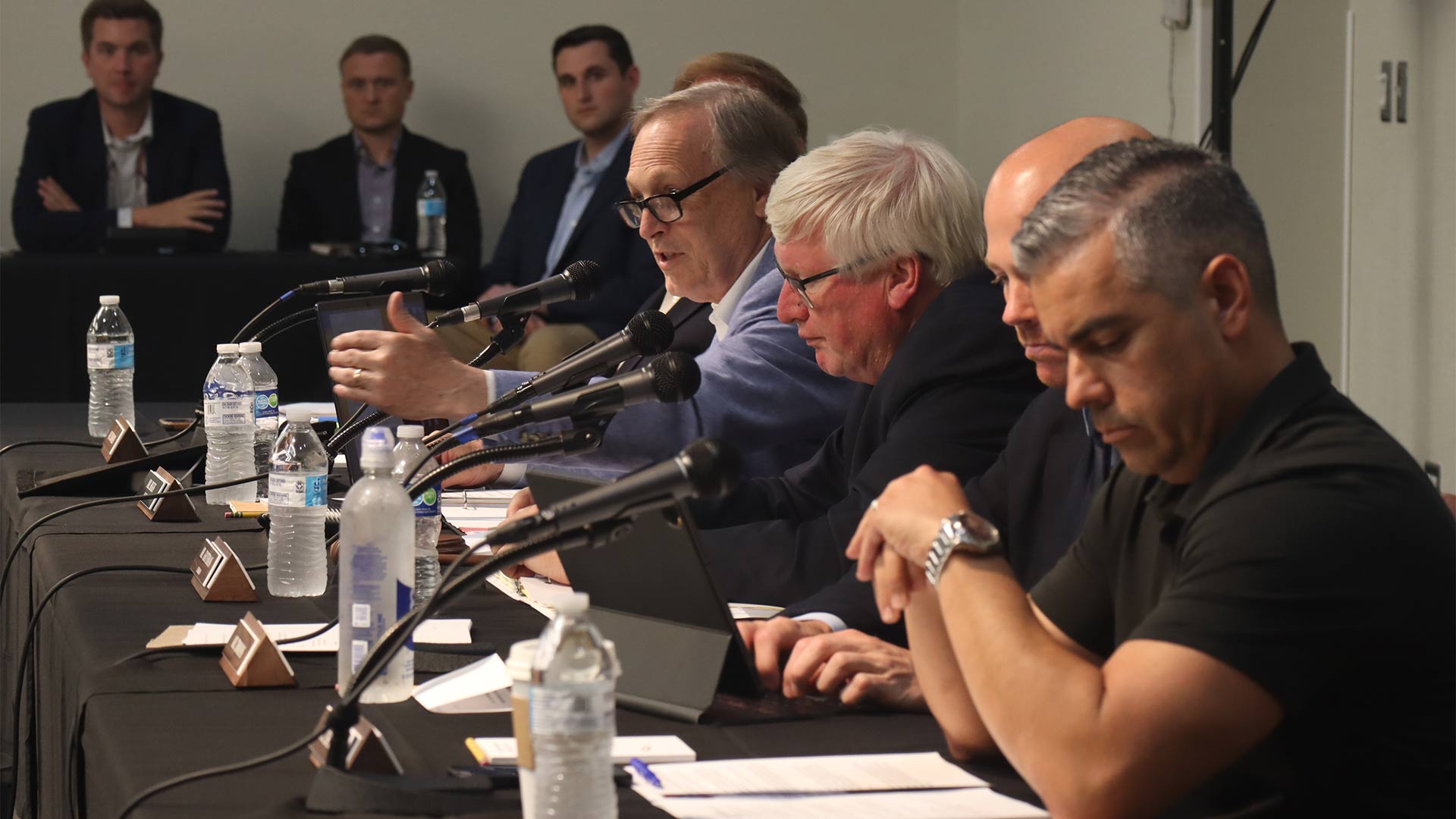 Members from the Subcommittee on National Security, the Border, and Foreign Affairs, and members from the Subcommittee on Crime and Federal Government Surveillance, hosted a hearing Tuesday at Cochise College relating to the Biden Administration's approach to mitigating illegal immigration at the U.S.-Mexico border. Congressman Juan Ciscomani (R-Arizona) (right) attended the meeting. Congressman Andy Biggs (R-Arizona) (second from the left) talks about his perspective on the matter. August 8, 2023.
Summer Hom, AZPM News
Five Congressional Republicans condemned President Biden's border policy at a subcommittee hearing Tuesday afternoon in Cochise County.
Arizona Congressman Andy Biggs said the country has failed in its Constitutional duties and called the current state of the border an "existential crisis."
"Article 4, Section 4 makes it clear in my opinion that we have failed because it is our responsibility to make sure that no invasion takes place in any state," Biggs said.
Andrew Arthur, Resident Fellow in Law and Policy for the Center for Immigration Studies, and William Timmons of South Carolina claimed Biden's border policies actually encourage migrants to enter the country.
"The Biden Administration has removed all deterrents to individuals entering the United States illegally. No presidency in history has ever done that," said Arthur.
When asked whether this hearing would have been necessary during the Trump Administration, Cochise County Sheriff Mark Dannels called rampant crime at the border "the new normal."
"Four years ago I was bragging around the country that we had collectively made Cochise County one of the safest places on the southwest border. Cartels did not want to play in our backyard...I can't say that honestly to my citizens today," he said.
Witnesses also emphasized the potentially negative impacts on border citizens due to an influx of migrants, especially on healthcare and education infrastructure.

"Nearly all those migrants, adults and children, come with little or nothing, with few skills and little schooling, meaning they'll disproportionately draw on state, local and federal resources for support," said Arthur.
Biggs concluded the meeting by calling for an impeachment inquiry of Secretary of Homeland Security Alejandro Mayorkas and funding cuts to assistance programs for migrants. He simultaneously called for increased funding to ICE and border patrol.
Arizona Congressman Juan Ciscomani, who represents Cochise County, was also at the meeting. The subcommittee did not take votes on any legislation.