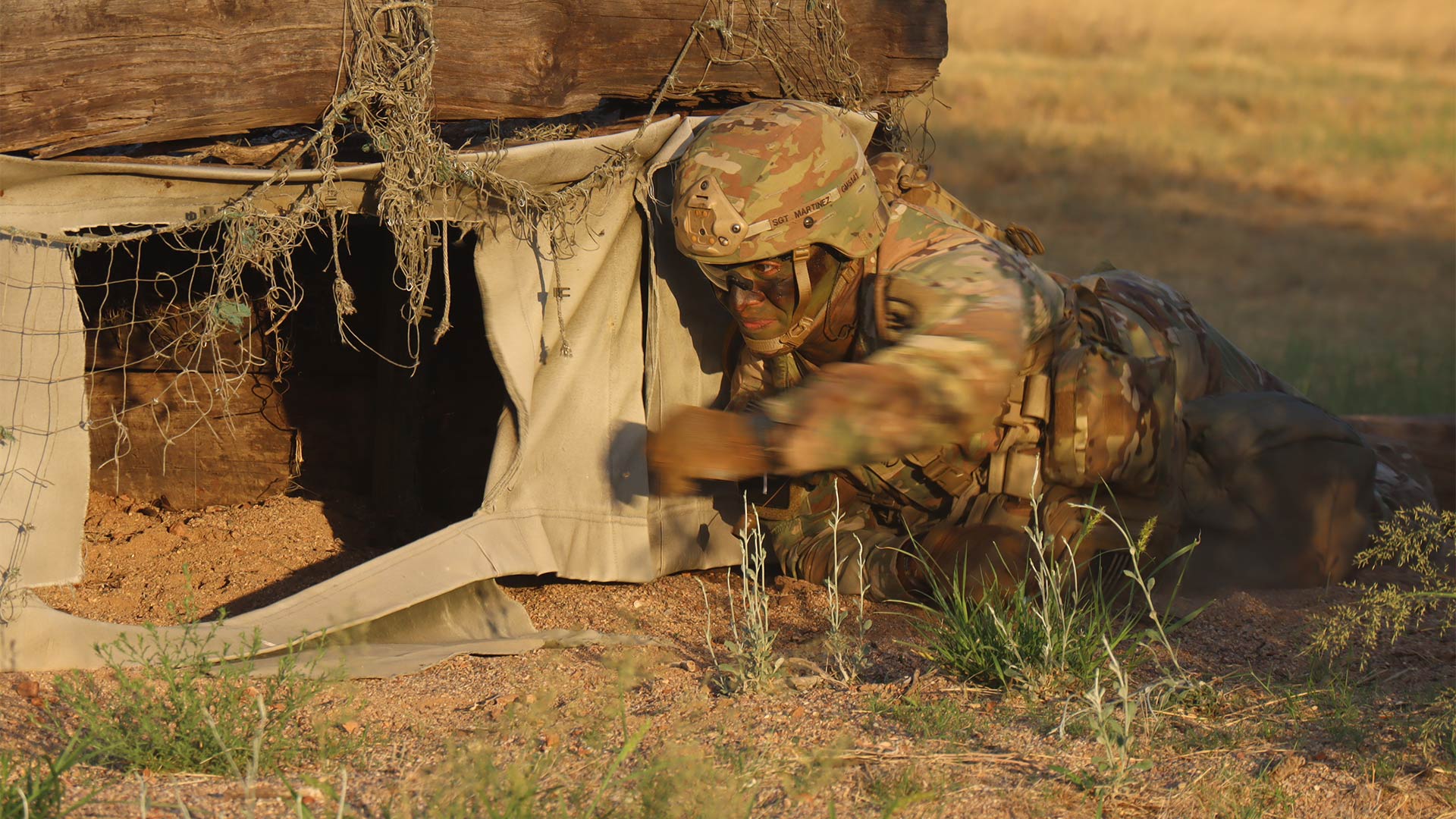 Staff Sergeant Gabriel Martinez throws an imitation grenade into a bunker as part of the U.S. Army Training and Doctrine Command Best Squad Competition's grenade assault course. August 28, 2023.
Summer Hom, AZPM News
Nearly 50 soldiers from around the nation under the U.S. Army Training and Doctrine Command (TRADOC) were at Fort Huachuca to compete in the command's annual Best Squad competition. The winner of the semi-final competition at Fort Huachuca advanced to the finals at the Army level.
Staff Sergeant Austin Simms, who led the home team of the Intelligence Center of Excellence from Fort Huachuca to the win, said Wednesday he was proud of how his team came together.
"We all come from different backgrounds, different MOSes (Military Occupational Specialties), but really, we worked together, did everything we could, and I'm very proud of each and every one of them," Simms said after the award ceremony. "I couldn't ask for a better team, and my team — I'm nothing without my team. So, I really give it to them."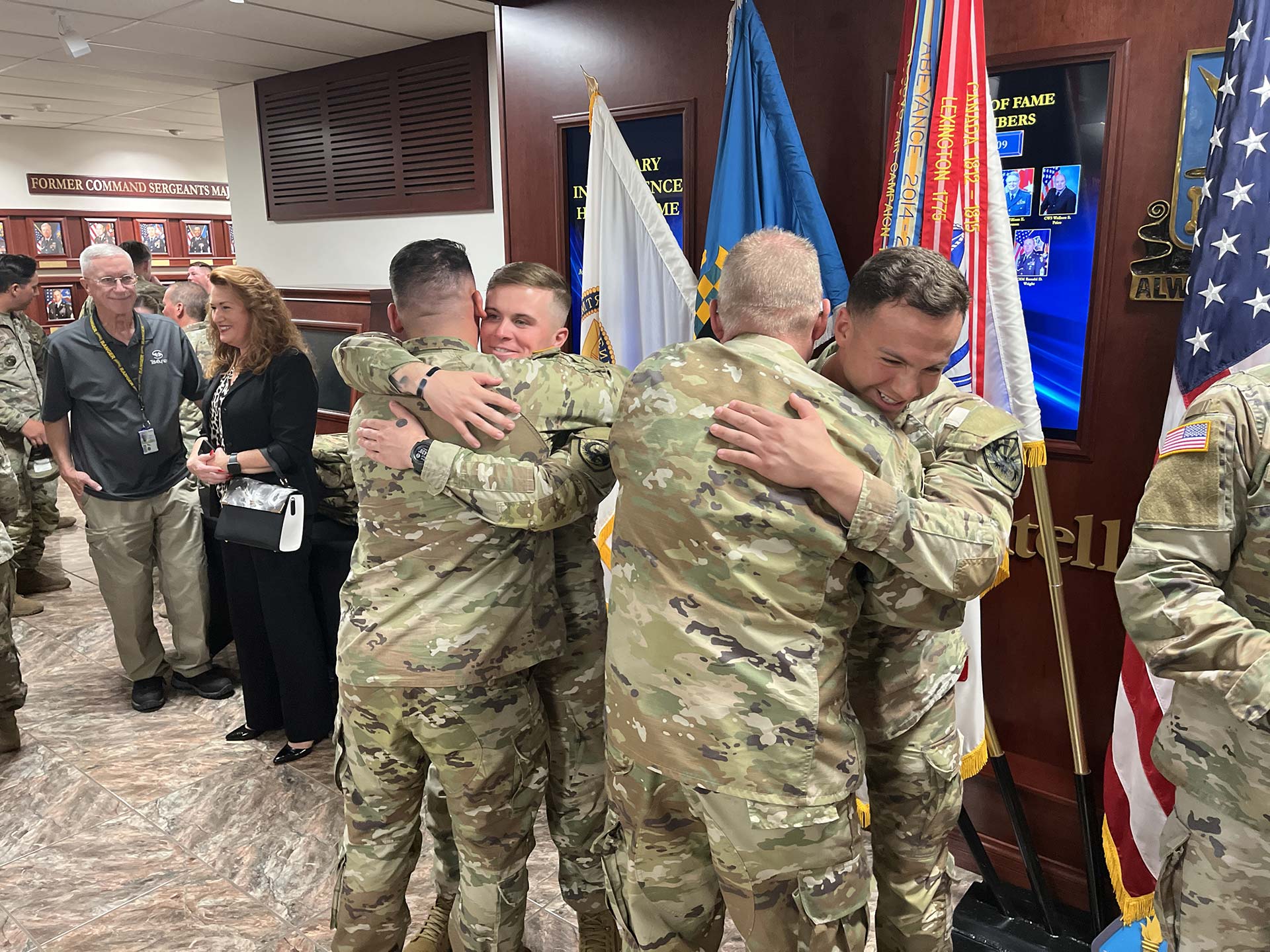 Staff Sergeant Austin Simms (left) and Staff Sergeant James Taber (right) receive hugs from peers as Fort Huachuca's Intelligence Center of Excellence rose to victory as the 2023 Army Training and Doctrine Command's Best Squad Competition. August 30, 2023.

Summer Hom, AZPM News
The TRADOC competition is designed to test every aspect of what it means to function as a squad in the U.S. Army. Over the course of eight days, 10 squads comprised of five members each, were put through physical, mental, and leadership tests to demonstrate their skills in functioning as a team.
Command Sergeant Major Jesse Townsend said it's the first time the TRADOC-level competition has been hosted at Fort Huachuca.
"They will be put through tactical drills reacting to contact, operating in a chemical-biological-nuclear environment — simulated of course — as well as moving as a team, communicating as a team both verbally and non-verbally," said Townsend prior to the competition. "Then, we will put them through tests to evaluate their ability to think on their feet in an unconventional environment and see how they do."
One of these tests, Command Sergeant Major Townsand said, includes a grenade assault course.
"With the grenade assault course, what we're going to do is test the squads' ability to move under stress, and when in range of the enemy — given a grenade as the weapon available — attack those targets both individuals or a bunker is one or area targets in order to progress through that battlefield scenario of using a grenade to overcome an objective or an enemy," said Townsand.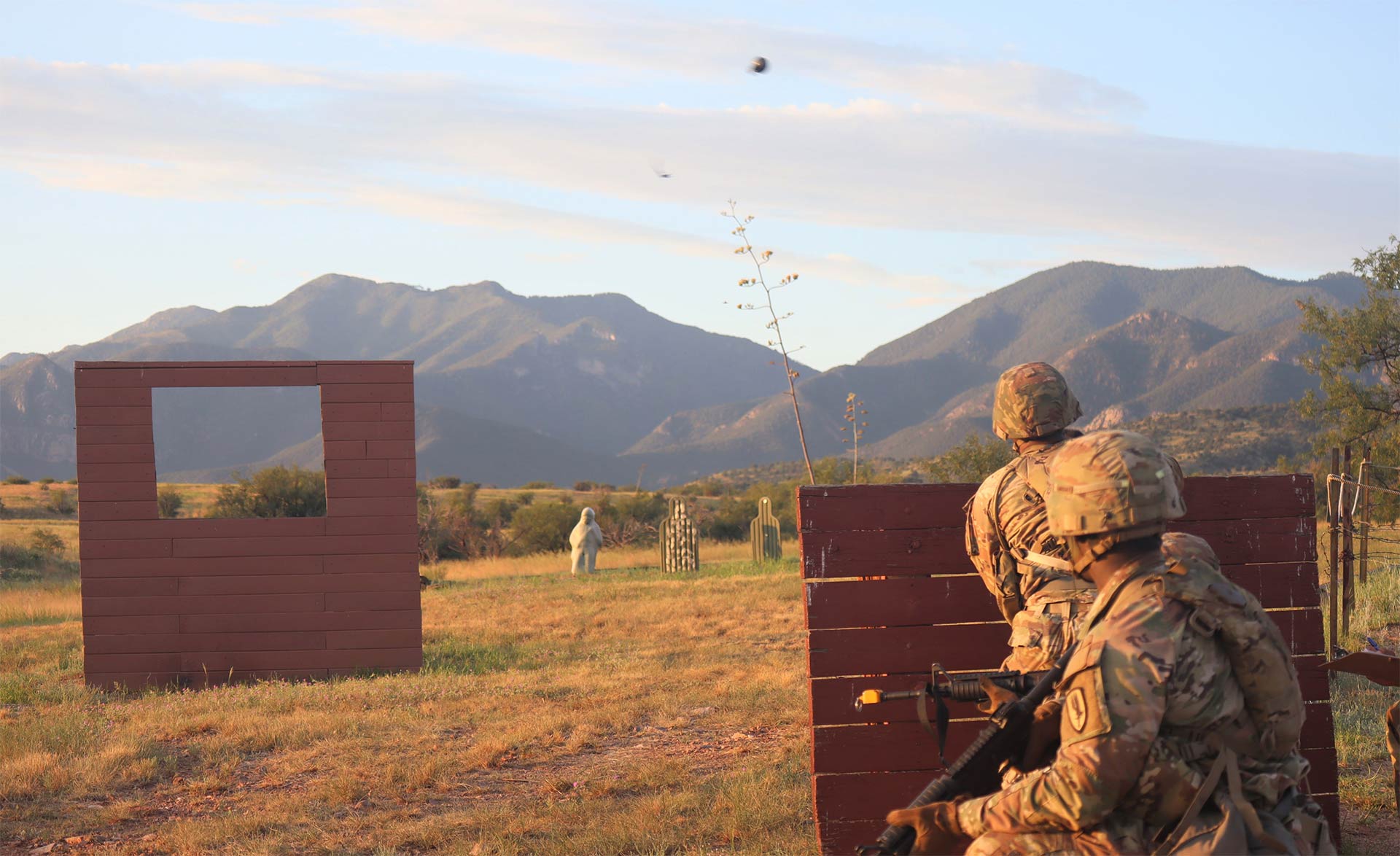 Squad members from the Aviation Center of Excellence from Fort Novosel, Alabama, compete in the grenade assault course during the U.S. Army Training and Doctrine Command Best Squad Competition on Fort Huachuca. August 28, 2023.
Summer Hom, AZPM News
Other tests include a pool swim and obstacle course, where squads had to transport a very special cantaloupe.
"So, the mystery event was with a cantaloupe with a sandbag tied around it," Simms said. "Essentially, we navigated through swimming, obstacle course, running two-three miles with various equipment. And essentially, we were told to not drop the mystery item, and at the end of the day, we opened up our bags and whoever's was damaged at all, they essentially got points taken off. But our cantaloupe was fine."
Other courses included the Army Combat Fitness Test, multiple live-fire weapons range exercises, medical lanes, land navigation, and a run on the Bisbee One Thousand Stairclimb.
"Every squad is built on the principle of having a team leader, a squad leader: the leader's ability to evaluate a situation, plan for and resource to execute that objective as well as the ability to communicate to the team, so we'll look at that from the role of the Non-Commissioned Officer," Townsend said.
As the competition wrapped up Wednesday, the energy in the auditorium was buzzing with anticipation among the teams, staff, and dignitaries in the room. In the end, the hometown crowd got their wish: the Intelligence Center of Excellence from Fort Huachuca clinched the first-place win.
The Intelligence Center of Excellence will now advance to the Army-level competition to represent all of the Training and Doctrine Command. That competition will be hosted by the Sergeant Major of the Army and will begin on September 24.
The winning squad members said much needs to be done to prepare for the next competition.
"Our plan is to continue to train, improve our deficiencies, and to strengthen our strengths as well," said Sergeant Bradley Joseph. "And to portray TRADOC in the best light as possible."
It's the first time in the two-year history of the TRADOC Best Squad Competition that the Intelligence Center of Excellence has made it to the finals.
"Going into it, I think it means we're going to be well-rounded," said Simms. "We just have to refine, like, the tactical side. But we have — we're (military) intelligence, so we have that side of us where we can critically think and think fast. And I think that's going to be crucial coming into the next competition. We just got to refine a little bit and be better than we were at this competition, and I think we can come away with a victory there."
The Aviation Center of Excellence from Fort Novosel, Alabama came in second place and the Combined Arms Center from Fort Leavenworth, Kansas came in third place.