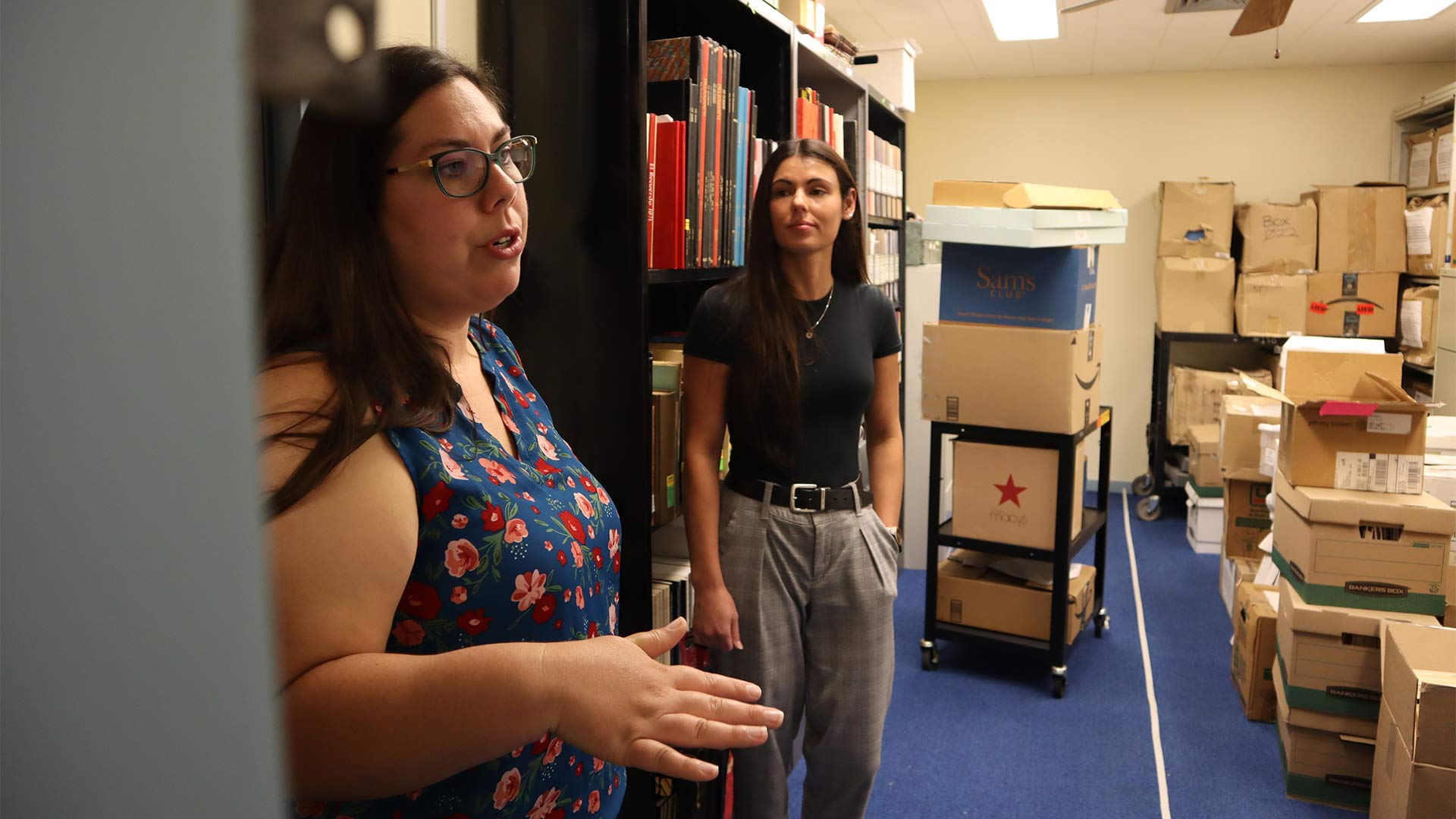 Cochise College Director of Library Services Karly Scarbrough (left) and Cochise College Librarian Archivist Ashlee Gray (right) discuss the beginnings of their Archiving Project, which aims to build a travelling display of past commencement programs. August 31, 2023.
Summer Hom, AZPM News
Cochise College librarians are looking for alumni's commencement programs as part of a new archiving project.
While digital materials may be common, Cochise College Librarian Archivist Ashlee Gray said that there's a tangibility connected with paper, as it captures a single moment in time.
"Ephemera can include anything from programs, ticket stubs, posters, and all of these items — the thing that they have in common — is that it records either a significant cultural, historical or political moment," said Gray.
Cochise College Director of Library Services Karly Scarbrough said that the college has started saving its commencement programs since 2010. Scarbrough adds that she hope to expand the archiving project to include the college's former student newspaper.
"Louie Armstrong performed at the inauguration of the Douglas Campus in the little theater," Scarbrough said. "That is on the front page of one of our newspapers. And if those newspapers are destroyed, no one will know that."
Gray said the idea for the archiving project came from brainstorming a new design for the future commencement programs; during that process, she said she saw gaps in the college's collection, specifically from 1965 through the 1970s and 1980s.
She hopes to encourage Cochise College alumni to share their commencement programs to add to a portable display.
"It reflects the history and the voices of the students in the program," Gray said. "Or it was the accomplishments of the actors on the stage. And it was a moment that should be recorded forever."
The budget for the project came in at just about $2,000 in institutional funds and funds from the Cochise College Foundation.
"We ended up going with a screen divider ... And repurposing it for this display," said Gray. "That was about $400, and we did purchase two."
She added that the college has received an Library Services and Technology Act grant to purchase a digital scanner to scan yearbooks, scrapbooks and the college's former student newspaper. The college also possesses an art collection that was donated to the college in the 1977, which is currently in storage.
"A project there is to eventually buy archival supplies for the non-shelf stable items, making sure they're protected from any bug activity, humidity, temperature," Gray said, adding that the college will continue to seek grants to renovate a space to adequately store archival materials.
While digital platforms for archiving have expanded, Scarbrough said it doesn't generate the same connection between the content and the reader.
"I think that's what paper gives us is a physical connection to the past, to a moment, to someone's ideas," said Scarbrough. "I don't think we can replace that with digital."
Looking ahead, Gray said she hopes to expand the archiving project to include a photo collection that has subjects identified.
"Many of them (photos) have not been labeled, or there's no notes on 'who is this person in the photo?'" said Gray. "What action are they doing?"
Gray said that Cochise College Alumni can bring their programs to the Douglas campus library or Cochise College Foundation, or they mail their programs to the library. If alumni don't want to give up their program, Gray said that they can bring the program by the college library in Douglas, and she can scan the program and return the original to its owner.
Alumni can also bring their commencement programs to the Cochise College Alumni Social on September 7th at 5:30 p.m. at the Blueberry Cafe in Douglas.