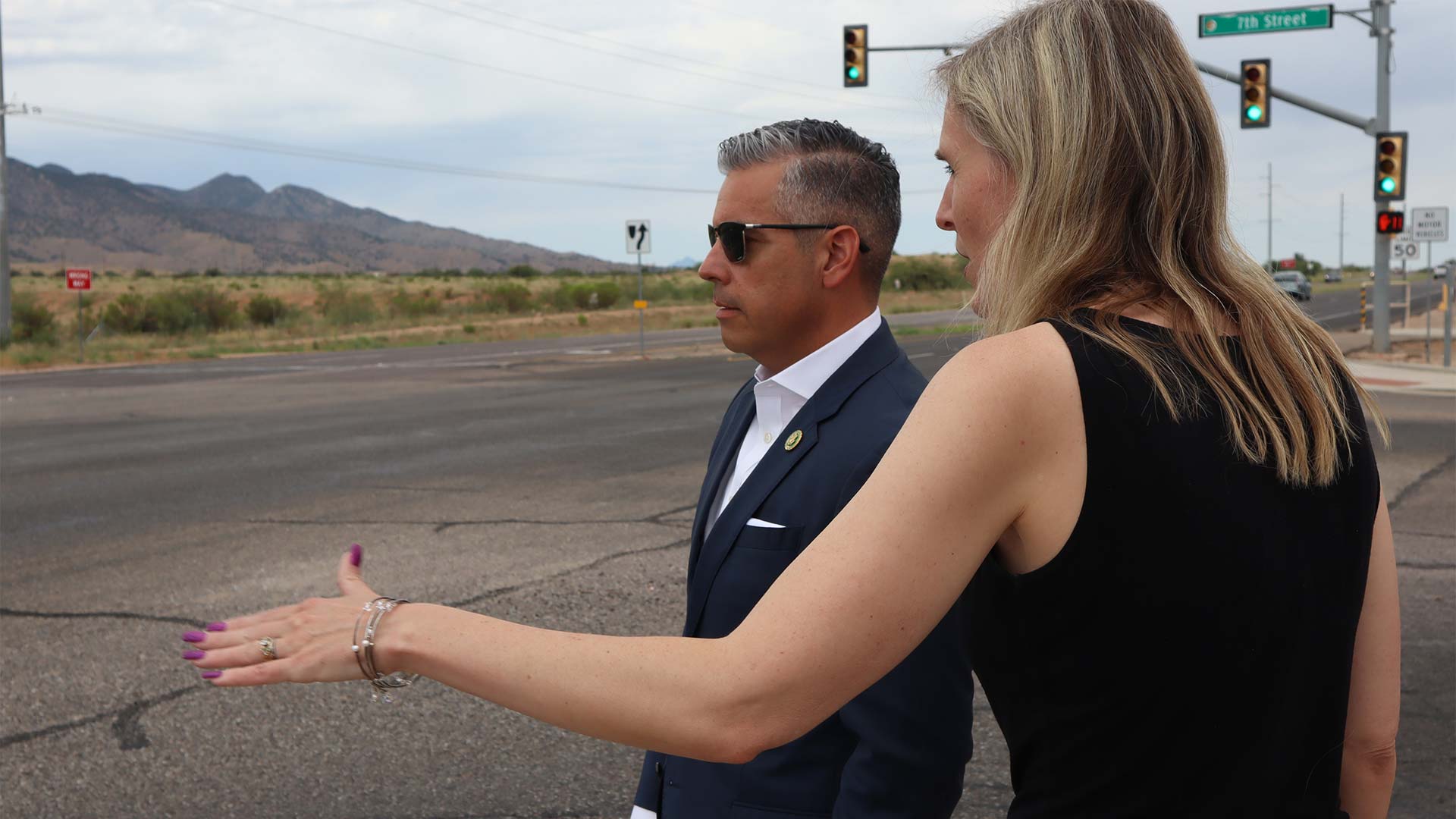 Congressman Juan Ciscomani (left) speaks with Sierra Vista Public Works Director Sharon Flissar (right) about the current state of Buffalo Soldier Trail, one of the major thoroughfares in Sierra Vista. September 7, 2023.
Summer Hom, AZPM News
Congressman Juan Ciscomani announced that more than $3 million in federal funding will be dedicated towards the City of Sierra Vista's efforts to reconstruct Buffalo Soldier Trail during a visit to Sierra Vista Thursday.
Representative Ciscomani said he chose the project for the funding based on the impact it has on the community.
"20,000 cars coming in here on average a day … This has a humongous impact on the community," Ciscomani told AZPM Thursday.
The funding is a part of the federal transportation spending bill. The congressman said it's already passed the House Appropriations Committee, which he is a member of, and the next stop is a vote at the full House of Representatives, followed up by the Senate.
City of Sierra Vista Public Works Director Sharon Flissar said that the funds will cover the first of six phases of the project.
"It's been about 20 years since we've redone Buffalo Soldier Trail," said Flissar. "And as time has gone on, we're just seeing additional pavement stress come through. What that looks like is what we call alligator cracking. And we call it that because it looks like the back of an alligator."
She said at that point, the pavement needs to be replaced. The first phase will cover from 7th Street up north to Hatfield Street.
"So, the very first phase will be 7th Street north about 3,000 feet," Flissar said. "Most of that is going to be a rebuild due to the amount of stress the pavement is showing at this point in time ... A simple cover or a seal works really well if you're seeing very minor cracking and that sort of stress. But once you start getting into that alligator cracking, you really need to take all the asphalt off, and also, rework the base."
Flissar said residents should start seeing the first phase complete within a year to a year and a half.
Each phase of the project is estimated to cost around $4 million dollars with the entire project costing around $24 million dollars.