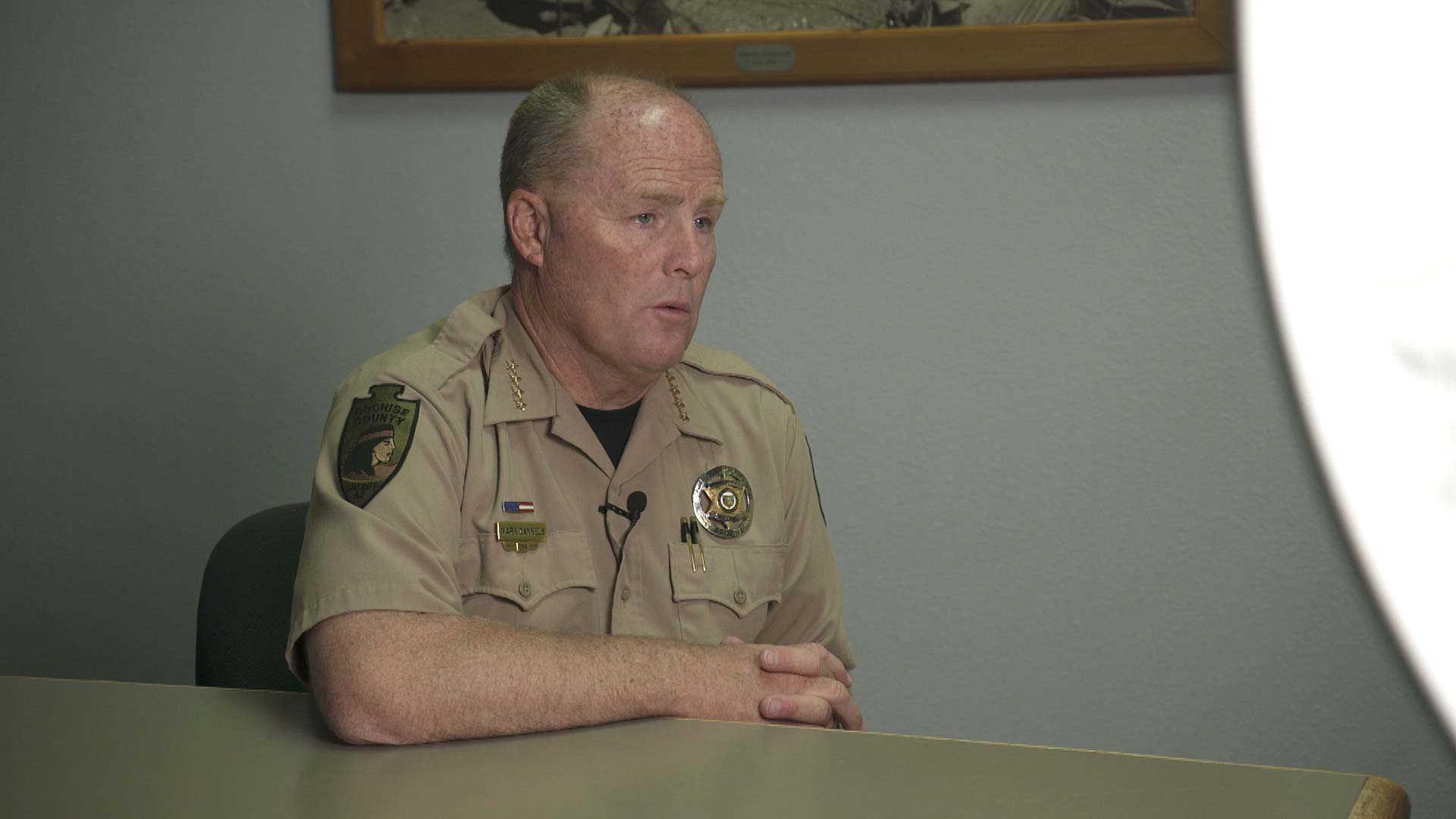 Cochise County Sheriff Mark Dannels sits for an interview at his office in Bisbee on April 20, 2021.
Robert Lindberg/AZPM Staff
Border officials released at least a dozen migrants Wednesday in Bisbee due to over-capacity as the number of migrants crossing the border in the Tucson Sector continues to rise.
Cochise County Sheriff Mark Dannels said in a Facebook post that officials bussed the migrants into Cochise County after they were processed. He said releasing them on the streets represents a lack of humanitarian consideration and poses risk for the migrants.
Carol Capas is spokeswoman for the Cochise County Sheriff's Office.
"We don't have any anticipation of having increased patrols, however all of our staff has been notified to be vigilant and to make sure that we continue our dedication to keeping our citizens safe," she said.
Border officials have not officially acknowledged the release, but multiple sources confirmed it to AZPM.
Mark Evans with Pima County says border officials are saying they are more than 200% over capacity here and are doing what they can to transfer people out to other sectors, such as Yuma, El Centro, San Diego and El Paso.
"So there's apparently been a really big surge in the Tucson Sector, a lot of people coming across the border all along the Tucson Sector, primarily in Nogales but also over in Cochise County and Douglas and Naco," he said.
The Casa Alitas shelter took in 1,100 migrants yesterday, and today are expecting a similar total if not more.
"They are telling us that all of their stations in the Tucson Sector — Lukeville, Tucson, Nogales, Douglas, Naco, Ajo, Casa Grande — are full. I mean, beyond full," Evans said.