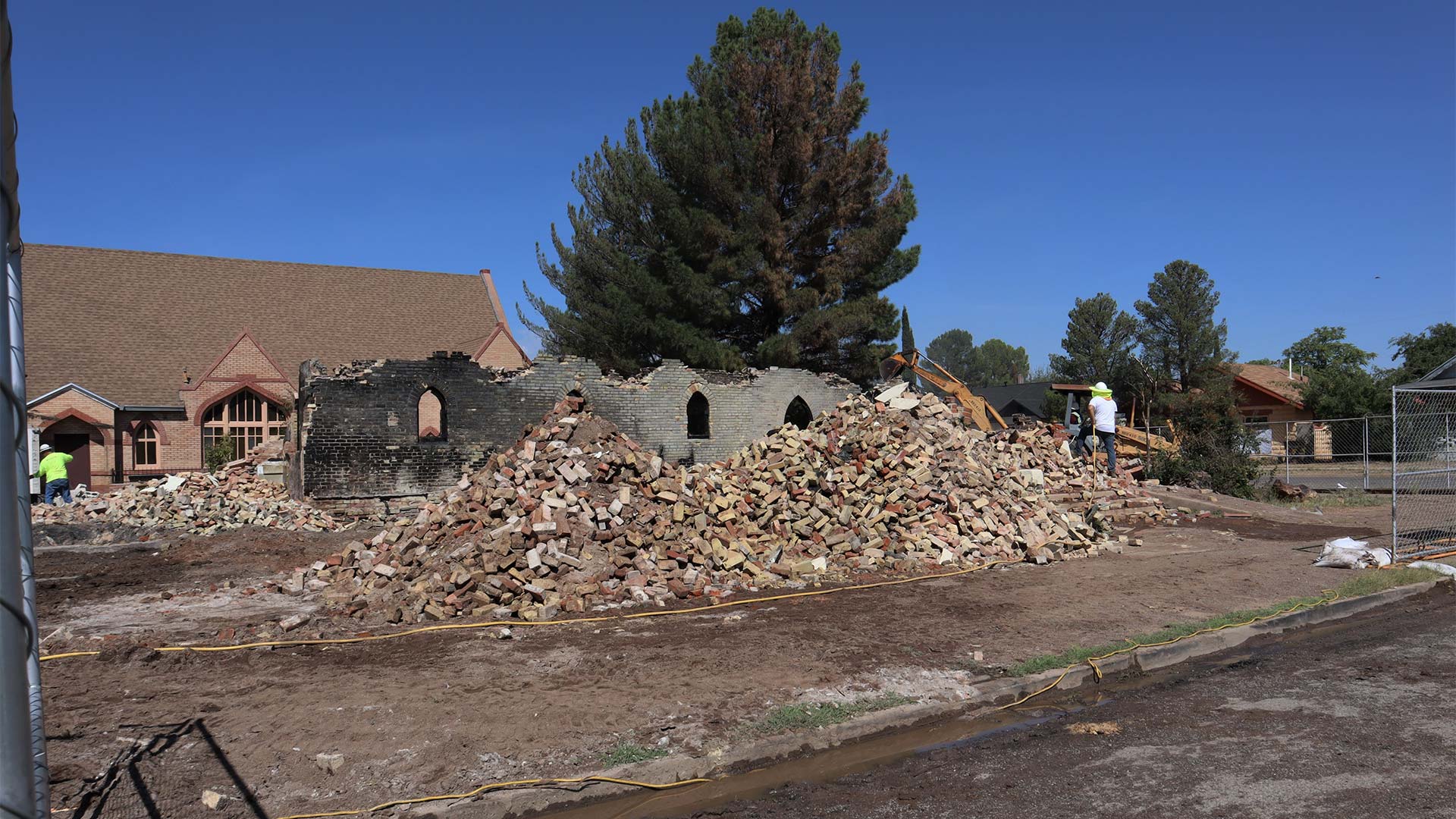 The former Saint Stephen's Episcopal Church in Douglas, AZ. The church was one of two prey to fire damage due to suspected arson. August 31, 2023. Photo by Summer Hom, AZPM News.
The man facing federal charges for burning two more than 100-year-old churches in Douglas this past May, decided in court Tuesday that he wants to represent himself.
Eric Ridenour told United States District Judge Scott Rash that he intends to represent himself pro se and that he "puts his faith my lord, Jesus Christ ... and a judge who knows the scriptures."
Judge Rash cautioned Ridenour on his choice, as Ridenour has not represented himself in a criminal case before, and said "It's your freedom that's at stake."
Ridenour was unmoved, and re-asserted that he did not want legal counsel. His trial was initially set for Tuesday, but was stalled, as Ridenour refused to meet with his attorney prior to the proceeding.
Trevor Hill, Ridenour's attorney, put in the motion for a status conference prior to the trial, and said he attempted to meet with Ridenour twice before the trial date and Ridenour refused to meet with him both times.
Ridenour announced Tuesday that he intends to call upon two witnesses — the bible being one and another biblical text being the other. Judge Rash said he would not allow those texts to be witnesses.
If convicted, Ridenour could face a maximum prison time of 40 years and fines of up to $1 million. He now awaits trial on Halloween, October 31. Judge Rash said he expects the trial to take three days.
Ridenour's next court appearance is another status conference on October 24. Ridenour requested that the jurors for his trial be Christian, but the judge denied that request.
"If you take the bible out of the court ... You expect equality out of this courtroom?" Ridenour asked the judge.
The aftermath of the fires that burned both Saint Stephen's Episcopal Church and First Presbyterian Church in Douglas has been draped in a backdrop of ashes and reconciling with the realities of the destruction. The Episcopal Bishop of Arizona Jennifer Reddall told AZPM earlier in September that the scale of the fire damage at Saint Stephen's Episcopal Church left them with no other choice but to demolish the more than 100-year-old church.
For the First Presbyterian Church, which also burned in the same fire, still has all four walls standing but efforts to salvage the church's remains have not progressed smoothly. Co-minister of the First Presbyterian Church Reverend Peggy Christiansen said as of earlier in September that they weren't able to get asbestos removed yet — which is the first step before they can assess what is salvageable and begin efforts to make the building habitable again.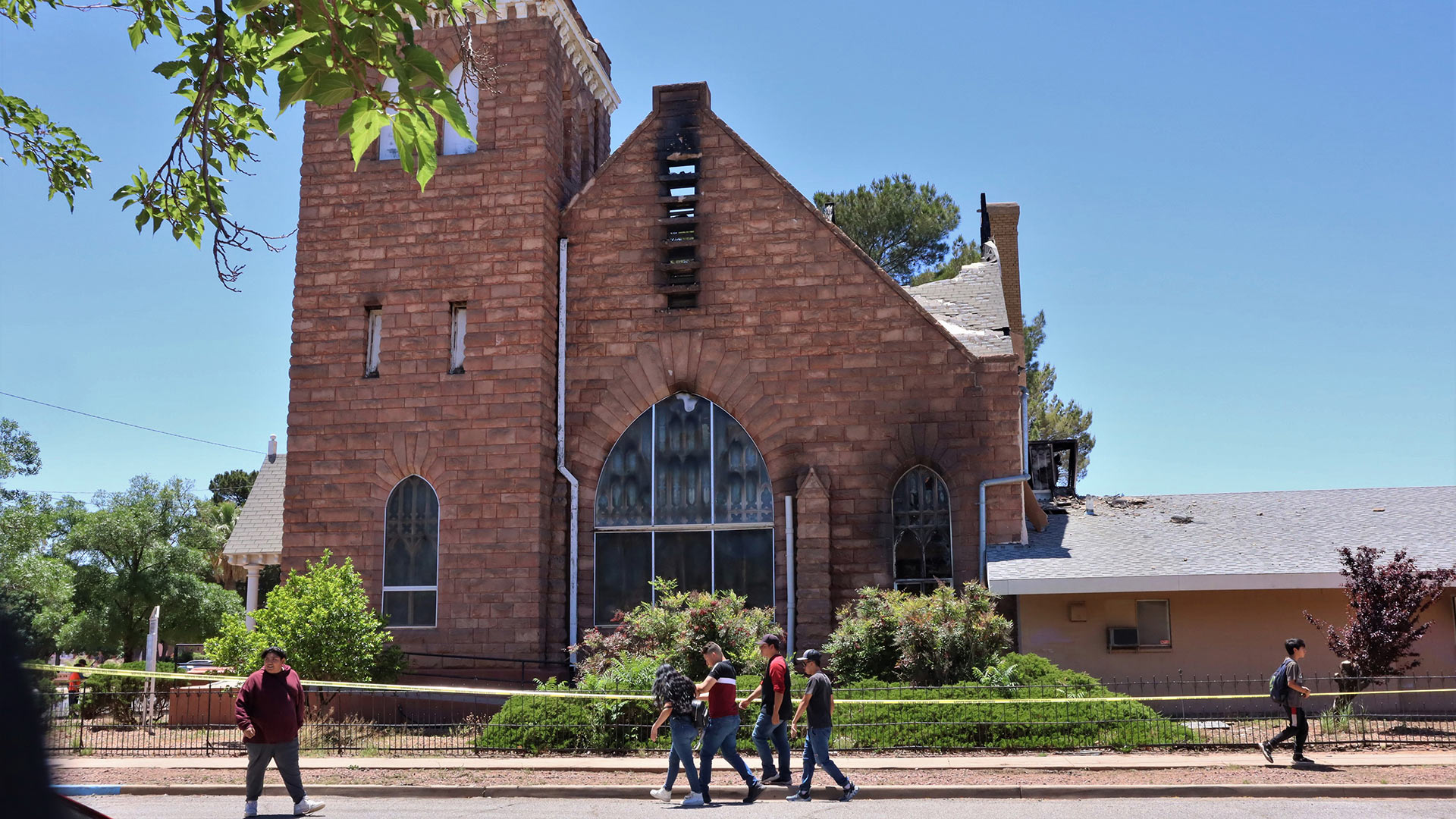 The fire that damaged Douglas' First Presbyterian also appears to have been intentionally set, according to authorities.
Summer Hom, AZPM
Ridenour has been charged with two counts of arson relating to the fire. While his motive has yet to be determined in court, according to court records which include statements from Ridenour's neighbors, who said Ridenour stopped worshiping at the Calvary Church in Bisbee because he didn't believe women "should be in positions of authority in the church," and stated that Ridenour "didn't like gays, didn't like politicians, and didn't like women in general leading the church."
The co-minister of First Presbyterian Church is a woman and the former vicar of Saint Stephen's Episcopal Church is openly gay, according to court records. Ridenour remains in custody ahead of his trial.