ANTIQUES ROADSHOW host Mark Walberg gets a taste of Tucson, Arizona, history from the seat of an antique buggy, part of the impressive stable of horse-drawn conveyances housed at the Tucson Rodeo Parade Museum and proudly mobilized for the annual Tucson Rodeo Parade. Treasures in part one of the marathon include two Picasso-designed vases bought in France and an ornate saddle - purchased for the owner as a child and ridden just once when she competed for the title of Coolidge Cotton Days Rodeo Queen in Coolidge, Arizona.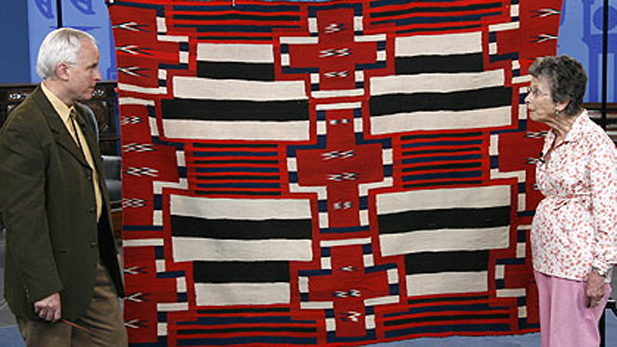 Appraiser Doug Deihl gave this third-phase chief's blanket a conservative value of between $35,000 and $45,000. (PHOTO: ARS)
In part two of the marathon, host Mark Walberg and appraiser Rosalie Sayyah are at the picturesque Arizona Inn for a conversation about traditional American Indian jewelry of the Southwest. At the Tucson Convention Center items include a vibrant 19th-century Navajo chief's blanket; a silver brooch made in the 1940s by then-struggling sculptor Jose DeRivero, and a 1776 French harp.
ANTIQUES ROADSHOW wraps up its trip to Tucson, Arizona, as host Mark Walberg and appraiser Colleene Fesko tour the Tucson Museum of Art, rounding up works of art depicting horses. Treasures in this episode crowds brave the 104-degree heat to bring in some cool objects, including a rare collection of 1956 Olympics memorabilia saved by the owner's father, trainer for the gold medal-winning American basketball team that included Bill Russell; a striking collection of World War II American propaganda posters; and a trio of paintings by acclaimed 20th-century French "outsider" artist Gaston Chaissac.
Antiques Roadshow Tucson Marathon, begins Monday at 8 p.m. on PBS 6.