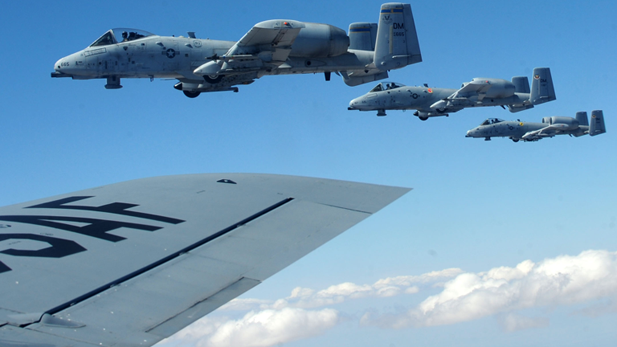 Davis-Monthan Air Force Base
Update from Christopher Conover, April 28
Listen:
The first paragraph of the National Defense Authorization Act (NDAA) prohibits the Air Force from putting any more A-10s in backup status this year.
More than a dozen, 18, of the planes were grounded earlier this year when the Air Force changed them to backup aircraft. Nine of those planes were based at Davis-Monthan Air Force base in Tucson.
The Air Force planned to ground another 18 planes later this year but the NDAA prohibits that move.
Listen:
The House Armed Services Committee's proposed defense bill includes more than $680 million to keep the A-10 fleet fully operational.
For the past year, the Air Force and President Barack Obama have tried to retire the plane as a cost-saving measure.
Republican Congresswoman Martha McSally, who serves on the committee, said the plane's continued use will be a victory for Tucson and southern Arizona.
About 80 A-10s are stationed at Davis-Monthan Air Force Base, and training for the plane is the base's primary mission.
"It's great for Davis-Monthan," McSally said. "It's great for the men and women who are serving here, and it's obviously good news for our local community - the jobs and the economic impact which is about $1.5 billion."
The proposal also funds another plane flown out of Davis-Monthan, the EC-130, which jams enemy radar and communications.

The committee will vote on the proposal on Wednesday. It will then move to the full house for a vote. Lawmakers in both the House and Senate have vowed to block the A-10's retirement.