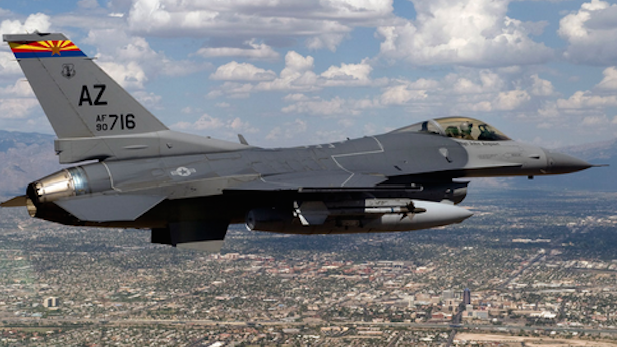 F-16 from the 162nd Fighter Wing, based in Tucson.

Arizona Air National Guard
An Iraqi pilot was flying the F-16 fighter jet that crashed near Douglas Wednesday night, an Air Force official said Thursday.
The pilot, whom the official described as "an Iraqi student pilot training here," remained unaccounted for. A rescue team was combing the desert, the official said.
"We don't have anything on the status of the pilot at this time," the official said. Asked if there was any sign the pilot had ejected, she said, "Not at this time."
The Associated Press quoted an Iraqi military official as saying the pilot is Iraqi Air Force Brig. Gen. Rafid Mohammed Hassan.
"We have no word yet on his fate or the reason behind the crash," Iraqi Brig. Gen. Tahseen Ibrahim told the AP. "We are in contact with the Americans to get more details."
The Iraqi-owned fighter went down when training with the Air Guard's 162nd Fighter Wing, based at Tucson International Airport. The plane crashed about 8 p.m., five miles east of Douglas Municipal Airport, the statement said.
The crash started a brush fire that spread to about one-qaurter mile long and 400 feet wide before it was extinguished, a Cochise County sheriff's deputy said.
The Air Force official said an interim safety board was sent to the scene to investigate and determine the cause of the crash.
Visiting military crews, including pilots and planes from foreign ally governments, routinely train with the 162nd Fighter Wing based at the Tucson airport.