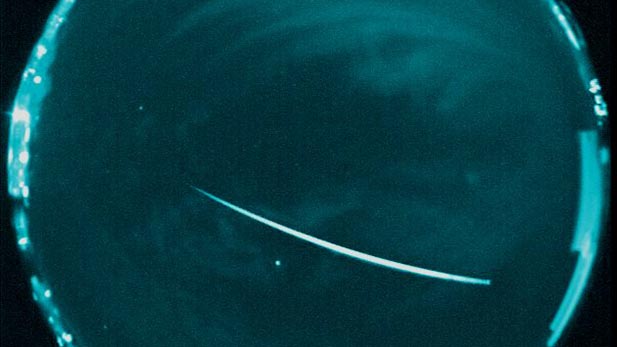 False-color image of a 2011 Geminid meteor, seen by a camera at New Mexico State University.

NASA/MSFC/MEO
Listen:
The annual Geminid meteor shower will light up the night sky this weekend. Find a dark place, put on warm clothing and enjoy the celestial show.
The meteor shower is expected to peak Sunday night into Monday morning. The best viewing is away from city lights. Give yourself at least 30 to 45 minutes outside so your eyes can get adjusted to the darkness.

Mount Lemmon Sky Center's Adam Block has other tips for viewing.
"The nice thing about a meteor shower is that although the meteors appear to come from a particular direction in the sky, in this case the constellation of Gemini, they can be seen anywhere in the sky," Block said.
In fact, it's best to look away from the radiant point where the meteors seem to originate. Block said looking in another direction will make the shooting stars' tails appear longer.

Your timing can improve the odds of seeing the display.
"The number of meteors that you will see will tend to increase the later in the evening and into the morning you look. So after midnight tends to be a very good time to see the peak of the meteor activity," he said.
Block said there could be two meteors visible each minute, and up to 120 per hour at the height of the shower. This year there is no Moon to add light to the sky.
Some of the brighter meteors will be visible from metropolitan areas, he said.
"The Geminids tend to be showy," Block said. And for Southern Arizona, they are actually more dependable to view than the Perseids which appear in August during the monsoon season which can bring cloudy nights.
The Geminids are remnants of an extinct comet called 3200 Phaethon.
If you can't make it outside, NASA TV will broadcast a live stream of the meteor shower and comments by researchers starting at 9 p.m. Mountain Standard Time Sunday.
The Arizona Science Desk is a collaboration of public broadcasting entities in the state, including Arizona Public Media.