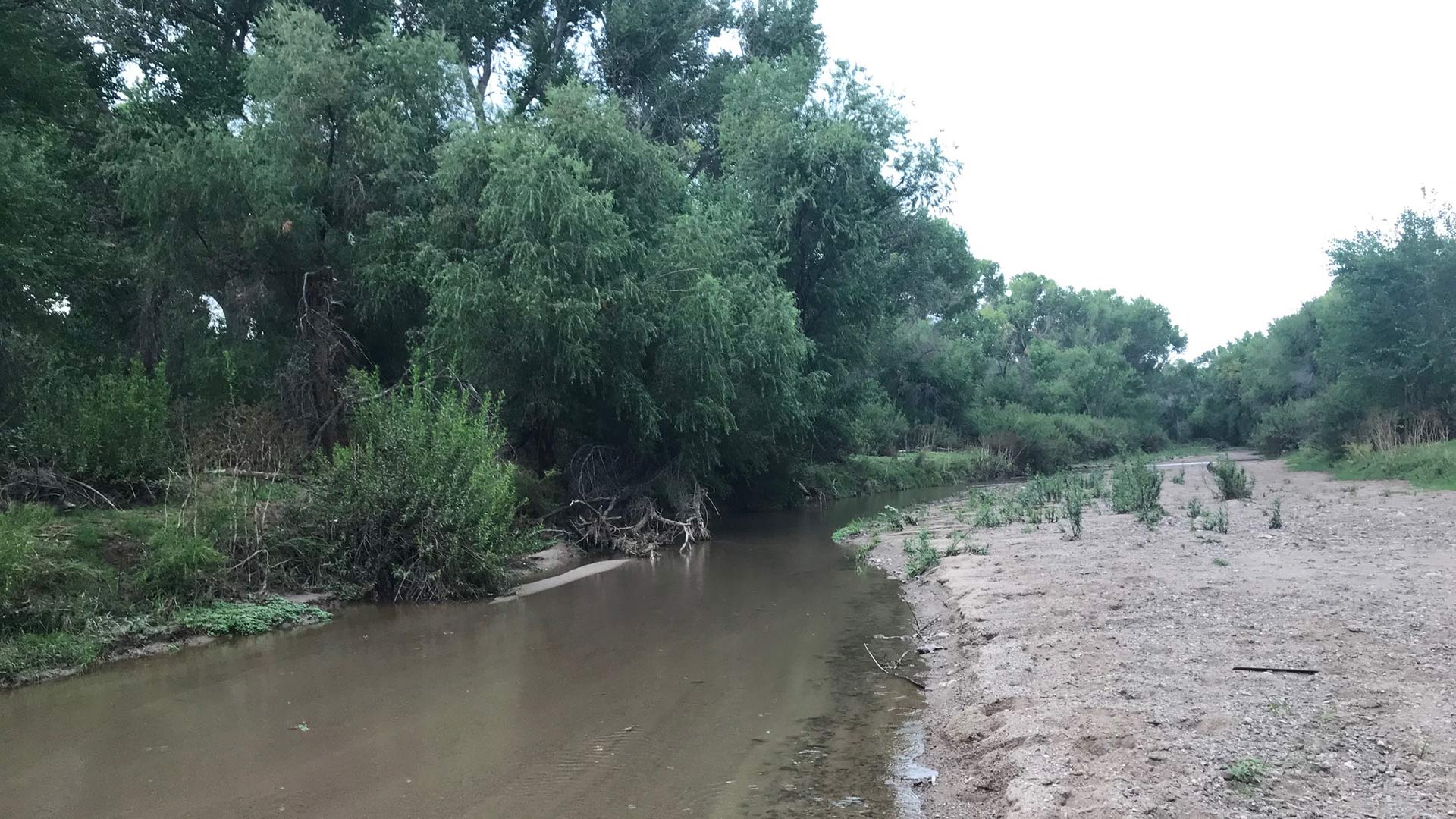 Santa Cruz River near Tubac, Arizona, July 20, 2018.
Nancy Montoya, AZPM
Businesses and residents in Santa Cruz County are demanding that the state and federal governments pay to fix a sewer pipeline that carries raw sewage and has become an environmental hazard.
The International Outfall Intercepter, or IOI, is a sewer pipeline that runs eight miles from Mexico to a treatment facility in Rio Rico, Arizona.
The raw sewage is treated and the water is released into the Santa Cruz River. The treatment center releases around 14 million gallons of water a day into the river, 90 percent of it comes from that raw sewage in Mexico.
Last year the sewer line ruptured between the border and the Rio Rico treatment plant, sending raw sewage into the Nogales Wash, a main tributary to the Santa Cruz River.

The pipeline is 25 years past its life expectancy and could rupture again "with even a light monsoon rain," says Ben Lomeli, a lifetime resident of Santa Cruz County, and a hydrologist.
Three weeks ago, the Arizona Department of Environmental Quality called an emergency meeting with Santa Cruz County residents and business owners. The proposal was for locals to put up $5 million, with the federal government paying $21 million to repair the sewer pipeline.
Santa Cruz County residents like Lomeli were dismayed, saying the sparsely populated Santa Cruz County is the poorest in Arizona and can't come up with that kind of money.
"Especially with this latest proposal," said Lomeli. "They want the locals to pay for a temporary Band-Aid type of fix that doesn't really address the issue of why the IOI ruptures," he said.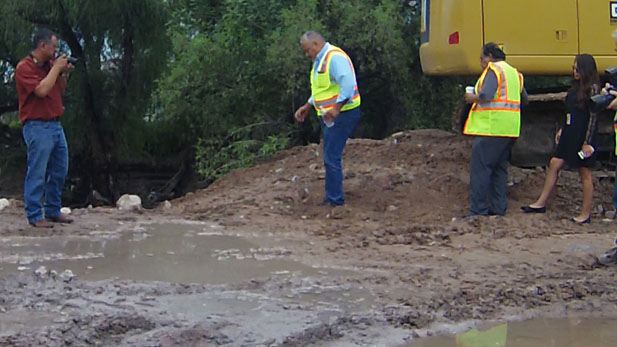 Santa Cruz County officials touring the extent of the damage from the sewer pipe break in Nogales, Arizona. (July, 2017)
Lomeli warns that because much of the pipeline is exposed and runs next to or in the Nogales Wash another heavy monsoon could result in another environmental hazard.

"As long as it is in the wash or next to the wash, we are going to have these problems. We are downstream victims. We don't contribute sewage to that, but we are certainly are recipients of the contamination when it ruptures," said Lomeli.
There is no dispute that the pipeline is old and could rupture ay anytime. The dispute is over who pay for it.
The Arizona Department of Environmental Quality has not responded to an Arizona Public Media request for comment.