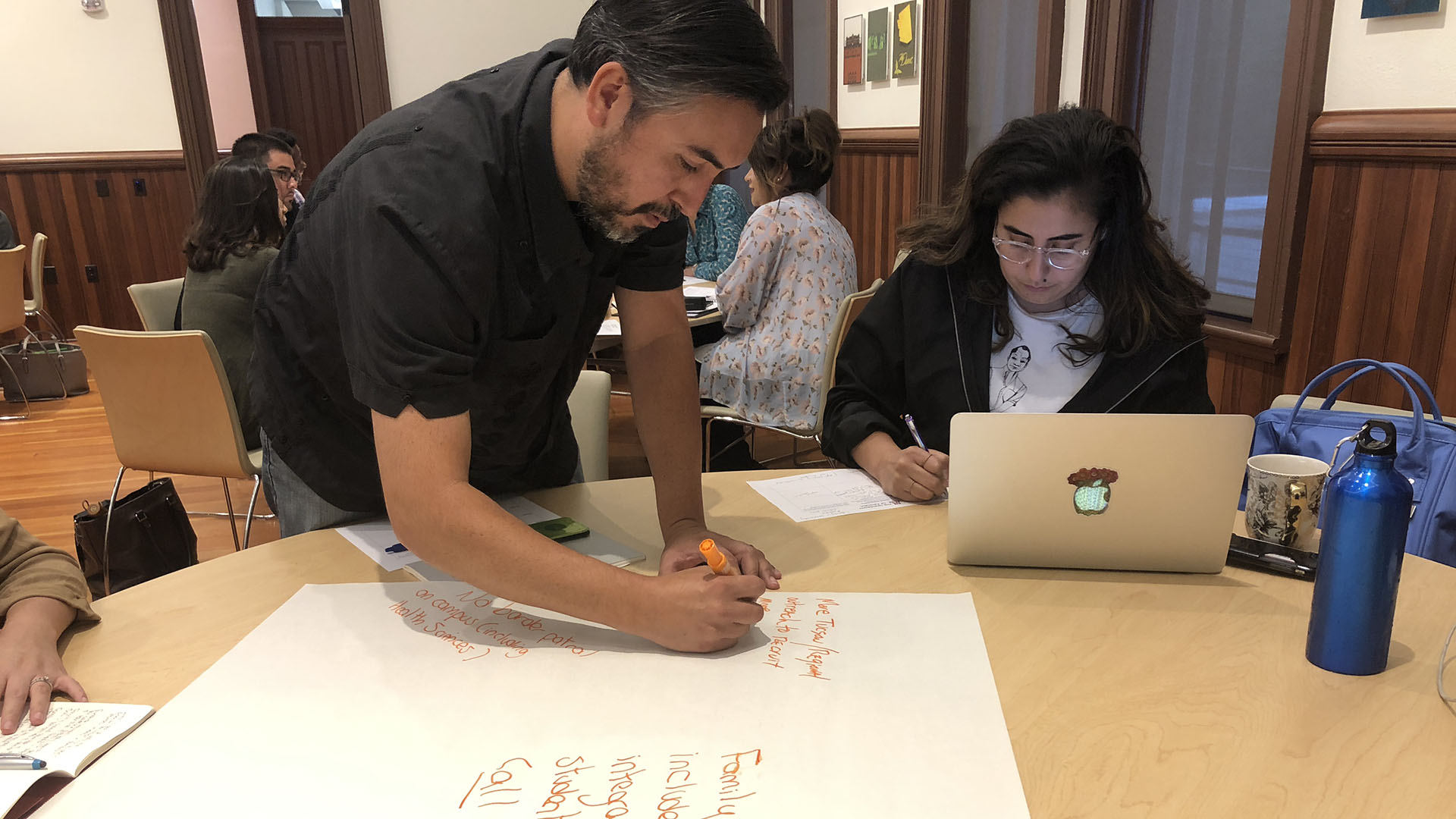 UA faculty member, Charlie Tousell (left), and Mexican American Studies Phd Student, Erika Nacim (right), sketch out their vision for the University of Arizona's Hispanic Serving Institution designation.
Ashley Fredde / AZPM
University of Arizona faculty, students, and community members are trying to figure out how the designation as a Hispanic Serving Institution can be leveraged to best serve the Hispanic population at the university and in the community.
In September, the University of Arizona hosted its first community forum since it received the Hispanic Serving Institution designation in Spring 2018.
The designation makes the university one of more than 100 four-year public institutions that meet the requirements for HSI. It brings more student support services, supplemental grant opportunities, and potential new research partners.
Marla A. Franco, executive director of assessment for research and grant development, presented what she called a "centralized vision with a diffused strategy." The vision has three main components: increasing enrollment, creating an educationally enhancing and welcoming environment, and having equitable opportunities and outcomes.
While the designation has brought opportunities to the university, it has also brought the critical eye of the community, especially the community it's intended to serve. UA faculty member Charlie Tousell expressed his disappointment in the lack of community engagement the university has had in previous years.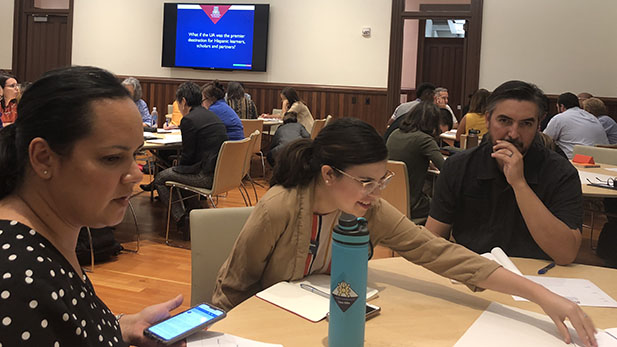 VIEW LARGER Participants of a workshop talk about how to make the University of Arizona even better at serving Hispanic populations. The workshop was held during the first year the institution was designated a Hispanic Serving Institution.

Ashley Fredde / AZPM
Tousell pointed to the demographics of the campus, which is predominantly white despite Tucson being 42.6 percent hispanic, according to the U.S. Census Bureau in a 2017 report.
"When you walk down the mall who do you see? Students from Pueblo High School or out of state students from places like California?" asked Tousell. "The whole point of having a land grant is to serve the people around you, but they're not doing that."
Erika Nacim, a Ph.D. student in Mexican American Studies, voiced a similar concern.
"There's political ways that we're implementing and that we say we're going to implement to direct change, but I think it's going to take a really long time," said Nacim. "In the current political times we're in Hispanics are very marginalized and in disparities groups, so I think there needs to be direct action right now."
Some of the changes Nacim said she wanted to see included funding for DACA students, or those who have received temporary reprieve from deportation. She said she would also like to see the university removing barriers such as Border Patrol and Immigration and Customs Enforcement officer presence, and direct outreach to the community.
Franco and her team plan to compile all of the ideas and concerns expressed by Tousell and Nacim, as well as other attendees to further adjust and implement university policies. Franco said she plans to host several more community forums this year.
Tousell admits he's cynical but said he hopes "this sort of designation actually institutes a progress going forward and changes the culture of the community and the university for the better."
Ashley Fredde is an intern at Arizona Public Media, and a student in the University of Arizona School of Journalism.