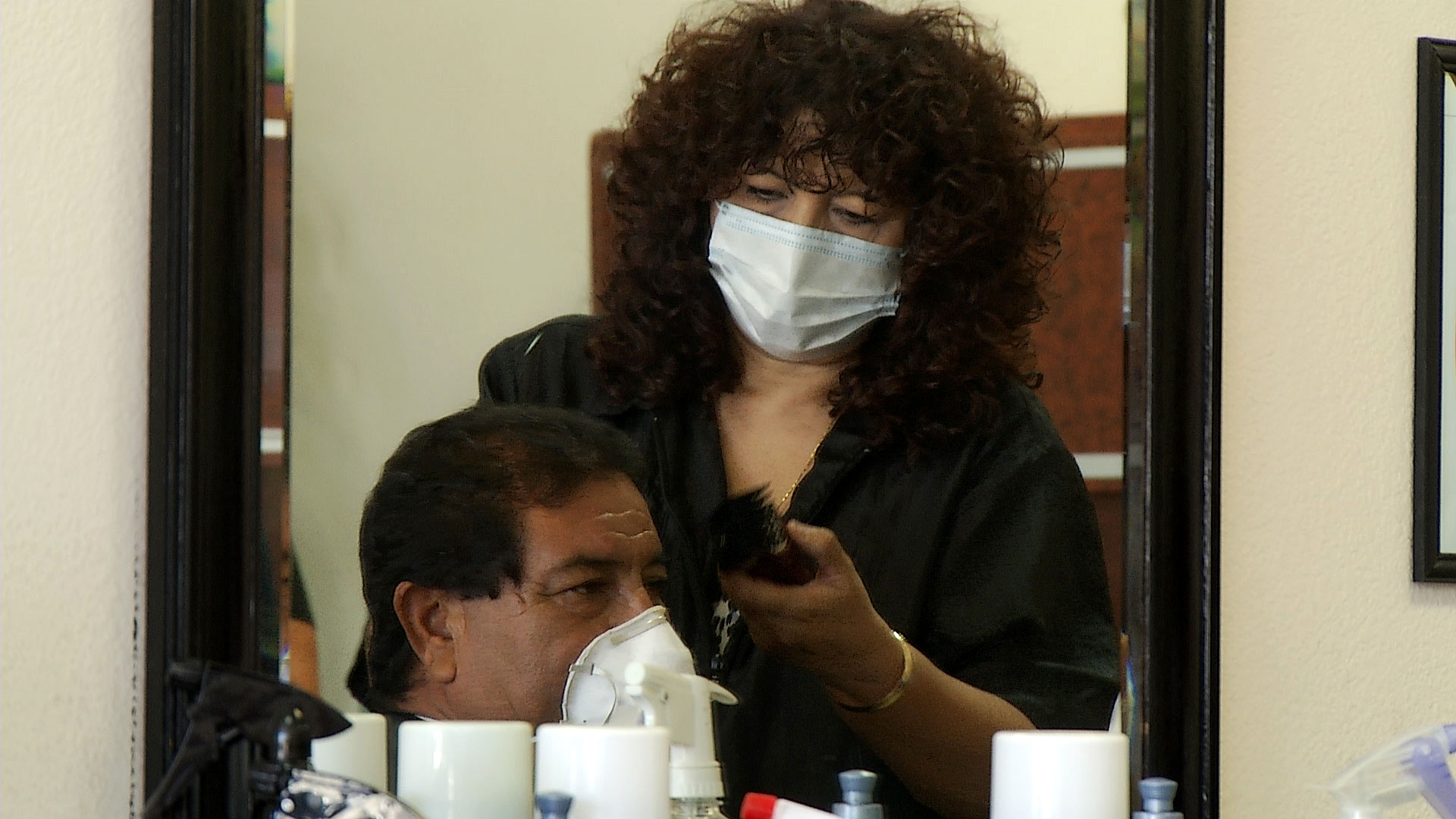 Both a customer and stylists wear face masks during a hair cut at Eclips Cuts Salon in Tucson on May 12, 2020. The salon reopened when Arizona eased COVID-19-related restrictions that had ordered barbers and salons to close.
John DeSoto/AZPM Staff
Arizona's COVID-19 numbers are rising and the state is asking people to wear masks, but there is little enforcement.
After Arizona briefly became a worldwide pandemic hotspot this summer, cities and counties across the state put in mask mandates for people out in public. Those mandates were combined with an order from Governor Doug Ducey temporarily closing bars, restaurants, and gyms. COVID-19 cases dropped.
Businesses began reopening in August. Despite mask requirements and other measures, cases are surging once again. Public health officials said enforcement is needed.
"We need to beef up the enforcement and compliance checks at bars, restaurants, and night clubs because many bars, clubs, and restaurants are doing the right thing. They are doing what they are supposed to be doing for the mitigation measures but a lot of them are blowing it off," said Will Humble, former head of the Arizona Department of Health Services.
Humble said the surge demonstrates we can't simply rely on people to do the right thing. He has an idea about how to enforce the rules.
"We need to get the food safety inspectors, they are called sanitarians, they are the people who go in and make sure the dumpster lid is closed, the chicken is cold, and the walk-in refrigerators are working, and the cutting boards are clean and put them on COVID-19 mitigation detail for the next four months," Humble said.
Humble's idea would require a commitment of CARES Act funding, much of which is controlled by the Governor's office. The inspectors Humble wants to use are currently paid through fees that are dedicated to food safety he said.
The state, through the Liquor Board, has suspended licenses of some establishments not abiding by the rules.
According to Governor Ducey, 90% of Arizona is covered by a local mask mandate. That is why, he says, he will not issue a statewide mask mandate. Instead, Ducey suggests that local authorities enforce the rules. The question becomes how to enforce the mask rules.
"We believe that arresting people and putting them in jails where that would be one of the most likely areas for transmission is not the way to get through this," said Kate Gallego, Mayor of Phoenix.
The University of Arizona has mask rules in place for everyone who comes on campus. The university is like a small city with 60,000 or so people. U.A. President Robert Robbins said the university is also having problems enforcing its mask requirements based on stories he has been told but UAPD officers and others on campus.
"Oh, you must have left your face covering in your dorm, here we've got an extra one for you. At which time, they pull it out of their pocket and put it on and go off and you watch them, and they get down the street then they take it off and put it back in their pocket. I've watched this stuff I know," Robbins said.
This week, Pima County put in a voluntary curfew in place from 10:00 p.m. to 5:00 a.m. every day through the end of the year. An executive order issued by the Governor in May prohibits local governments from putting any COVID mitigation efforts in place that are stronger than what the state has in place. As a result, Pima County cannot make the curfew mandatory.
Pima County was able to put a mask requirement in place because the Governor allowed local governments to do so.
Even though the curfew is not mandator, county officials hope it will help drop the near record numbers.
"Our hope is that by working together to develop some options that will highlight why we think certain things should happen, like a voluntary curfew in the late evening into the early morning we will be able to show and illustrate to people the reason for that," said Dr. Theresa Cullen, the head of the Pima County Health Department.
That reason would a drop in cases.
Cullen said publicized, voluntary restrictions have worked before. She pointed to the drop in cases at the University of Arizona after the county put in a voluntary stay at home order.
Cullen hopes the rest of the community will follow that lead.