TP speaks to Rev. John Fife of Southside Presbyterian Church which is celebrating the 30th anniversary of the Sanctuary Movement in Tucson on Sunday March 25th. On Sunday 24 March 1982, the church held a news conference to announce it would serve as a sanctuary for refugees from Central America. Organizers say the effort became "one of the significant movements for social reform in the 20th century" and included hundreds of religious congregations as well as colleges and universities.
AZPM
Tucsonans are celebrating the 30th anniversary of a coming together of many in the community to provide sanctuary to Central American refugees.
The Sanctuary Movement, centered at Southside Presbyterian Church, provided support and assistance to refugees from Guatemala and El Salvador who were fleeing their war-torn countries.
The Rev. John Fife was a founding member of the movement and at the time was pastor of Southside Presbyterian. He retired a few years ago.
"The announcement in March of 1982 was, 'This church will be a sanctuary for Central American refugees'," Fife recalls. "And much to our astonishment it became a sanctuary."
Church elder Leslie Carlson was a volunteer who decided to get involved with the movement shortly after it began.

"One day somebody said, 'We need help,' and I knew that people's lives were at stake, and I knew that it was something I could do, and I felt the call to do it," Carlson says.
She wasn't alone.
Eventually, hundreds of churches, synagogues, educational facilities and other groups joined the cause, along with their members and many more volunteers.
Southside Presbyterian ill mark the anniversary Sunday with a worship service at 9:30 a.m., followed by a news conference and educational events. Among them will be historic footage of stories of some of the original activists.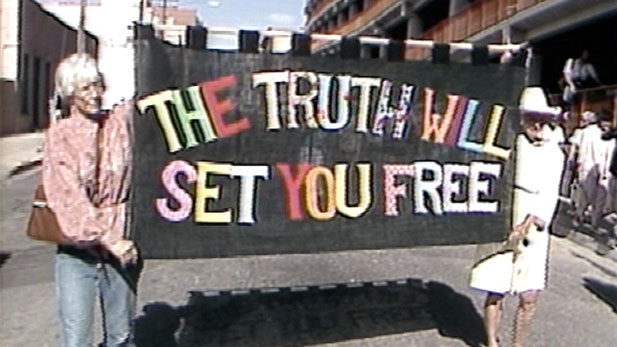 Southside Presbyterian Church historic photo of volunteers in the Sanctuary Movement, which began 30 years ago.

AZPM