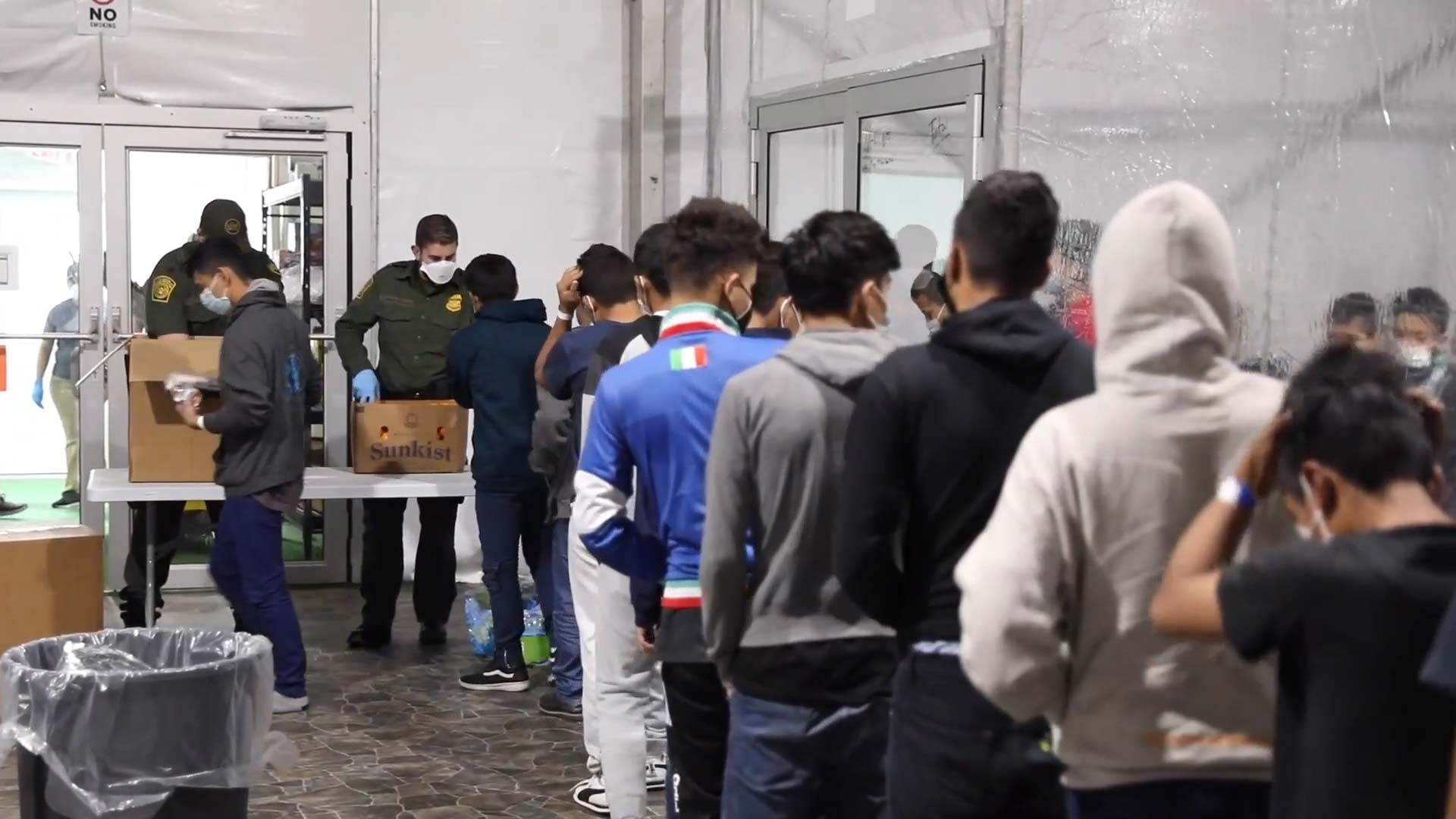 Unaccompanied minors apprehended by Customs and Border Protection line up inside a temporary processing facility in Donna, Texas on March 17, 2021.
Customs and Border Protection
More information is emerging about a tent-like facility that the U.S. Border Patrol is planning to erect in Tucson to house asylum seekers.
Tucson Mayor Regina Romero said details about the project have been scant. But in a recent meeting with local Border Patrol officials, she and Tucson City Manager Michael Ortega were told the temporary housing facility is slated for a plot of land near the Tucson airport, and is expected to be up and running by the end of April or early May. It could host both unaccompanied children and families.
"Right now the most important information for us to have is that there will be some facility to provide humane care," she said.
Romero said she and other officials also want to ensure COVID-19 precautions like social distancing and quarantine space are in place. In an email, the Border Patrol official told the Daily Star the Border Patrol facility is designed to hold up to 500 people, but will likely only hold only 150-200 because of COVID protocols and restrictions tied to ongoing litigation about the conditions of Customs and Border Protection processing facilities in Arizona.

Pandemic protocols have created similar challenges for Tucson aid networks that have cared for asylum seekers in the past, like the shelter Casa Alitas. Romero said the facility is running at about half capacity now to ensure there's room to quarantine and social distance.
Romero said Border Patrol is expected to host a tour of the facility before it opens, but she stressed the city is not involved in any coordination or planning efforts for the project.
"The City of Tucson is a partner in providing temporary shelter as individuals wait for transportation to reach their sponsors," she said. "But it is also a responsibility of the federal; government to provide a service to the chjildren and individuals that are being affected by federal policies."
Separate efforts are underway by the city and Pima County to house and transport asylum seekers arriving in Tucson. In addition to the space at Casa Alitas, the city is looking into securing hotel space to accommodate more families. Romero said officials have been planning those efforts for months, as they did when a similar rise in asylum seekers was seen in previous years.
This week, the Pima County Board of Supervisors announced the county will also receive more than two million dollars from FEMA to assist that effort.