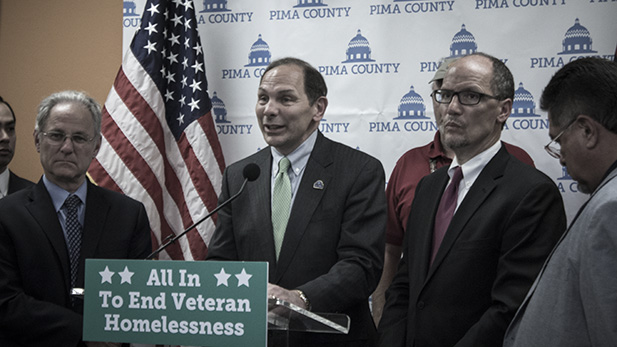 Photo credit: Amanda LeClaire
Federal officials were in Tucson Monday to promote a plan to end veterans' homelessness.
Secretary of Housing and Urban Development Julián Castro, Veterans Affairs Secretary Bob McDonald and Secretary of Labor Thomas Perez spoke to staff and military veterans at the Sullivan Jackson Employment Center in South Tucson.
Castro praised the advancements made in addressing veteran homelessness in Pima County.
"I'm very pleased to highlight the great progress that Tucson and Pima County are making," Castro said.
Tucson is one of nearly two dozen cities across the nation that have created specific programs to end homelessness among veterans. The group will head to Las Vegas Tuesday.