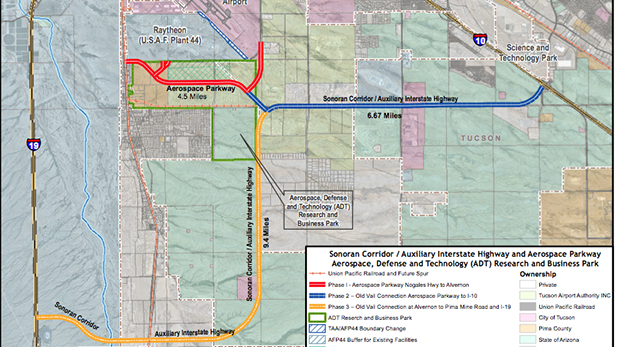 The three phases of the Sonoran Corridor project to link Interstates 10 and 19.

Source: Pima County
Listen:
Pima County Monday celebrated the completion of the first phase of a project to connect Interstates 10 and 19 south of Tucson.
The full project is meant to create a logistics and trade hub and help connect the highways while avoiding the downtown Tucson area.
Phase one was to move Hughes Access Road. It is unclear when the next phases will begin because voters rejected a county request to borrow $30 million bond funding for phase 2 in November's bond election.
The county's planned phases of Sonoran Corridor project:
Phase 1: Move Hughes Access Road a half-mile to the south. This created a buffer for Raytheon Missile Systems from development encroaching, and from vehicle traffic vibrations. Rename the road Aerospace Parkway. (red)
Phase 2: Connect Aerospace Parkway to I-10 via Old Vail Road. (blue)
Phase 3: Connect I-19 to Aerospace Parkway via Alvernon and Pima Mine Rd. (yellow)
*Colors in parentheses correspond to map.