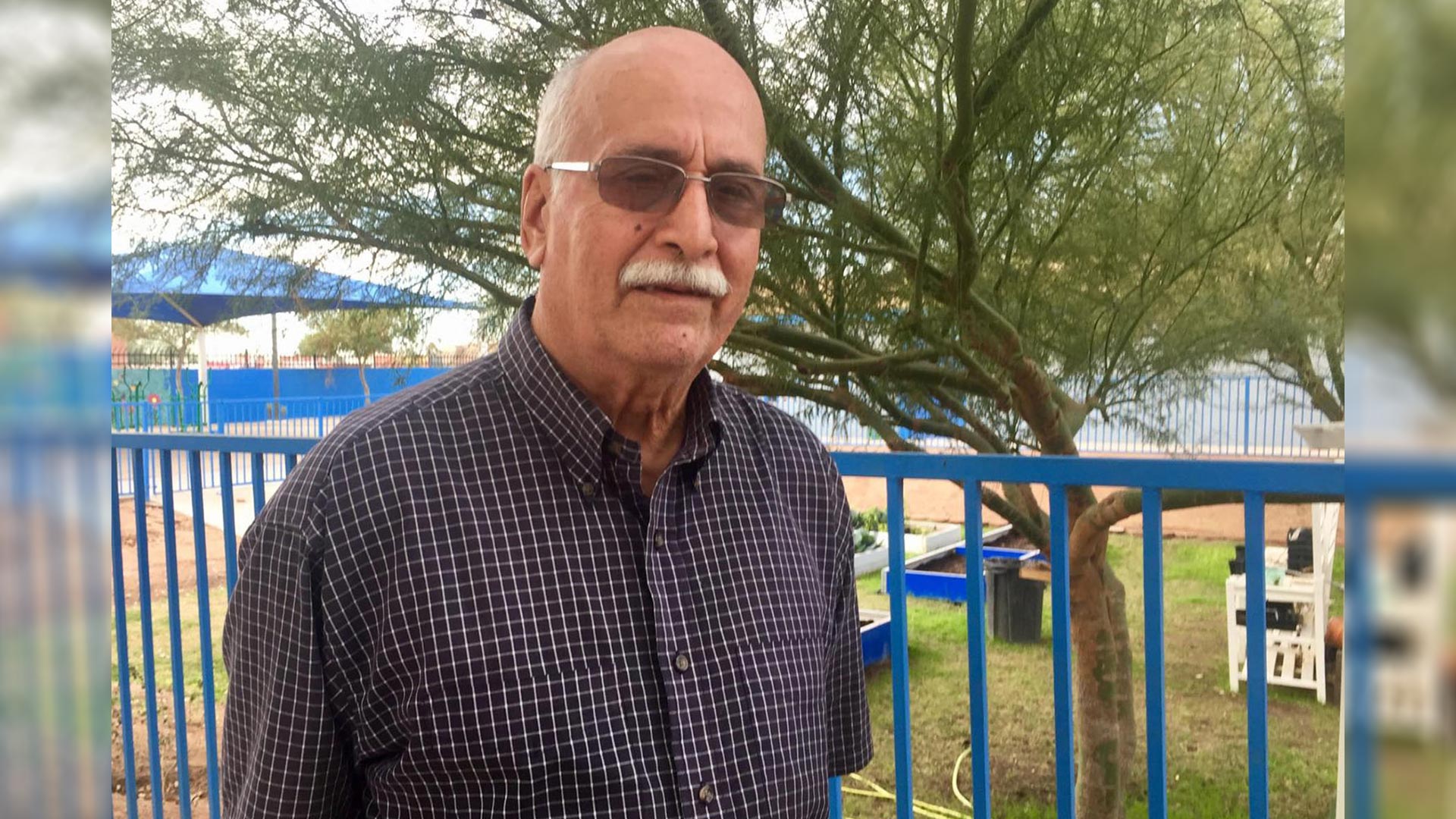 Agapito Quintero applied in June to become a naturalized U.S. citizen.
Matthew Casey
When Agapito Quintero picks up his grandchildren every afternoon from school in south Phoenix, he reminds them to wear their seat belts.
The 70-year-old is originally from a small town in Zacatecas, Mexico. He's had a green card for almost 30 years. Now he wants to become a citizen — like his grandkids.
"I wasn't born here," he said in Spanish. "But I consider myself to be from here."
About six months have passed since Quintero sent his application to U.S. Citizenship and Immigration Services. The agency's goal is to process naturalization requests in five to seven months. But its own data show, earlier this year, the national average rose to about eight months.
The increase is at least partly driven by a national effort to get millions of green card holders to naturalize.
The U.S. government gets a flood of citizenship applications in the months before a presidential election, and activists said the 2016 spike has carried over into this year.
"People are feeling an urgency because they are uncertain about what this administration is going to do with any person who isn't a citizen," said Petra Falcon, executive director of Promise Arizona.
Promise Arizona is member of the National Partnership for New Americans, which is leading the campaign called "Naturalize Now."
A recent study by the partnership found the number of citizenship applications in Arizona rose by nearly 50 percent in the last two years — the seventh-largest percentage increase in the country.
Many applicants have lived here on green cards since the amnesty signed by President Ronald Reagan.
"And so you will have people in Arizona who have lived here for 20, 30 years," Falcon said. "And have came in under that wave. And have not become citizens."
Activists said the surge to naturalize has led to a growing backlog of over 700,000 pending applications at U.S. Citizenship and Immigration Services. They want Congress to investigate processing delays, and give the agency extra funding to cut wait times.
"[Processing] should be something which, if the immigrant makes the decision and makes the application, moves relatively quickly," said Joshua Hoyt, executive director of the National Partnership for New Americans.
U.S. Citizenship and Immigration Services declined an interview for this story. But in a statement said the agency is working to lower wait times by moving resources to busy offices, increasing employee overtime and recruiting to fill vacancies.
A recent audit by the Office of Inspector General for the U.S. Department of Homeland Security found problems with the rollout of a program that lets people apply for naturalization online. It also concluded the agency has failed to meet goals for operational efficiency, customer service and national security.
Delays also keep would-be citizens from voting, Hoyt said.
"It's not good for immigrants to not exercise their full political rights in this country," he said. "Especially in a period of time (when) immigrants are being demonized."
Quintero wants to vote.
Promise Arizona can help him register, just like the organization helped him fill out the citizenship application.
But Quintero has two bigger reasons to become a citizen. The first is he considers himself American. The second is if he just has a green card, he can still be forced to leave the country. Then he couldn't drive his grandkids home from school every day.
"I have faith that (the government) will give me citizenship," Quintero said.
Quintero has already gone to U.S. Citizenship and Immigration Services to get his fingerprints and photograph taken. Now he's waiting to be called back for an interview.
With the field office in Phoenix currently processing applications as of six months before Quintero submitted his, chances are he'll have to keep the faith a while longer.
http://fronterasdesk.org/content/10933/surge-arizona-part-national-wave-citizenship-applications